Bumblebee Transformer Costume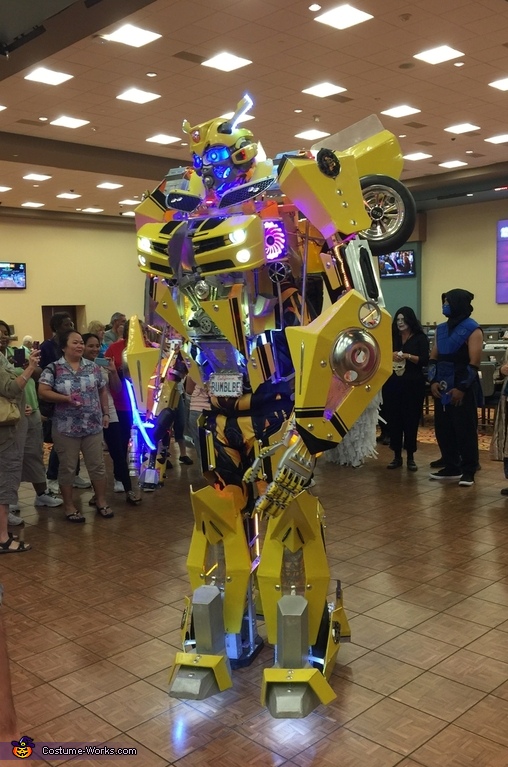 Bumblee at an early bingo costume contets!
More views:
(click to enlarge)
A word from Nate, the 'Bumblebee Transformer' costume creator:
It took three years of work, but I have completed my ultimate Bumblebee transformer Halloween costume! It started with a backpack frame, then I built up the frame out of aluminum. The panels themselves are made out of WonderFlex: a very useful thermal plastic. I cut pieces of foam board to size, cut pieces of the plastic to match, then used a heat gun to make the plastic moldable around the foam. After it cools, it is incredibly durable! I used tractor paint with a plastic adhesion promoter, then some automotive detailing paint for the black.

The costume also has a HUGE number of LED lights and effects. Bumblebee is a car afterall! They are driven by a 12V Li-Ion motorcycle battery. I have a remote sequencer in the arm which allow me to control the flashing and effects. Importantly, there are two computer fans pointing directly at my face (which is behind a one-way mirror). There is a helmet which allows me to turn his head, and the fingers are articulated with a pulley system. The feet are built off of wood platforms and snowboard step in bindings.

The chest piece weighs around 60 lbs, which is heavy but not unmanageable. I have a custom stand which can prop it up to take the weight off my shoulders.