Boba Fett Costume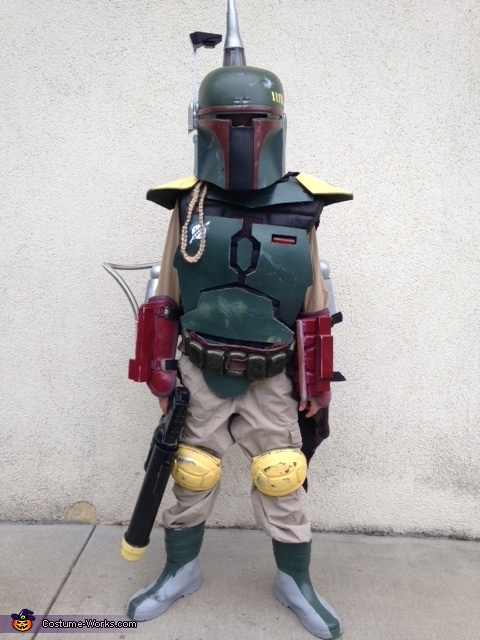 Andrew Fish - Boba Fett 1
More views:
(click to enlarge)
A word from Jeffrey, the 'Boba Fett' costume creator:
The idea of the costume stemmed from our son's request and love for Star Wars. The request was made only three weeks before this Halloween, so brainstorming, designing and crafting the costume needed to be performed immediately as we had no time to waste.
The costume is made from a wide variety of everyday materials, crafted to look, feel and appear as if the costume was taken directly from the movie. A list of items used is provided below:

• Catcher's gear (shin guards and chest protector)
• Oil funnel
• Broom stick
• PVC pipe
• Wood
• 35 gallon exterior trash can
• Bicycle reflector light (LED)
• Flash lights
• Glow sticks
• Nerf Gun
• Braided dolls hair
• Men's T-Shirt
• Boy's Cargo pants and shirt
• Boy's rain boots
• Plastic cups
• Backpack
• Belt
• Rubber ball
• Cabinet hinges
• Washing machine cold water flex pipe
• Copper plumbing pieces
• Let's start off from the top down.


Helmet:
The helmet itself is the only store bought item of this entire costume. The helmet was originally purchased several years ago as a collector's piece and has been in storage for over 15 years. When pulled from storage, the plastic helmet, crafted by the Don Bluth Company, was completely flattened. The helmet was reshaped by placing it into a conventional kitchen oven at 200 degrees for 3 minutes. After several tries the helmet was remolded back into shape. It was then outfitted with foam batting to provide a snug fit for my son.
Clothing:
The character wears a flight suit. In an effort to keep costs down, shopping was done at a used clothing store. There we were able to find cargo pants and a matching long sleeve shirt. The cape was crafted from purchasing a men's extra large used T-shirt and cut to replicate a cape. The cape is attached to the shirt using safety pins. The boots were also purchased at a used clothing store. Originally they were a pair of red and black firefighter's boots, but thanks to spray paint, they were modified to look like the character's boots.
Armor:
All the armor, shoulder, chest, stomach, crotch and back plates were crafted out of an old grey 45 gallon trashcan. First the trashcan was cut into pieces using a rotary tool and then sanded to remove all sharp edges. Once all pieces were cut, they were each placed separately into an outside barbeque grill at 400 degrees for 2-3 minutes, in order to soften the plastic material and make it pliable. Each piece was then molded to fit my son's dimensions and then cooled.
After several hours of cooling, each piece was primed and painted to match the original costume color of the character. In order to obtain the look of scratched and worn metal armor, each piece was painted with four different colors. The first was a grey primer, followed by silver, aluminum color, then a separate undercoat color and finally the armor color that appears on top. The idea behind the color process was that when the pieces were roughed up using rocks, the paint would chip showing several different layers of paint color as if the character had obtained used armor pieces and then created his signature look.
Several pieces of armor were outfitted with emblems and insignias of the character. Each emblem and/or insignia was hand painted using model paint.
Each of the armor pieces were mounted to an old catcher's chest protector using Velcro. By using the chest protector we were able to insure that the armor would stay in place throughout the duration of Halloween night as well as provide a comfortable fit for our son with already existing adjustable straps.
The left chest plate was cut to allow for an LED rear bicycle light to be inserted. The light was purchased at a low budget discount store and is powered by two AAA batteries. The device has 7 settings and can be controlled by my son throughout the evening.
Knee armor was constructed using pieces from an old set of catcher's knee and shin protectors. The section was cut, sanded and painted. Existing straps from the equipment were utilized to strap the piece to our son's legs.
Forearm Gauntlets:
Both Gauntlets were crafted from catcher's shin guards. The sections of shin guards were cut from the knee. The guards were primed and painted to match character colors and then outfitted using hot glue with wood and plumbing pieces to simulate some sort of weapon device. Each gauntlet is strapped to my son using the existing straps.
 
Jetpack:
The jet pack was constructed out of several sizes of PVC plumbing pipe, wood and miscellaneous everyday materials. Each piece was measured to the dimensions of my son and cut using a table saw. The wood between each PVC pipe is channeled so the PVC would join without gaps. Each PVC and wood piece is secured using screws and hot glue. Each jet, which is located on each side of the pack, is constructed of a plastic cup glued and screwed to a rubber ball then secured by a screw to the fuel tank through a ½" PVC pipe. Each fuel tank top was made out of the top section of a 16.9 oz water bottle. The top rocket portion of the jet pack was made from two plastic Halloween cups flipped and hot glued. The section of pipe below the glasses is hollowed out and contains an LED flashlight which, when lit, illuminates the cups and creates a beacon. In order to create a pyramid top, an oil spout was cut to match the dimensions of the cups and secured using hot glue. A washing machine flex pipe was used to connect the jet pack to the right arm gauntlet.
In order to mount the jetpack onto my son, we used an old backpack. Cutting the front off the backpack and using the straps, we threaded the straps through the back armor. The back armor and jet pack were then combined together and secured using screws. The jet back could now be worn by my son as a backpack. Soft cushioning was inserted into the backpack backing to create a soft surface that the jet pack could rest on.
Weapons:
The blaster was made out of an old Nerf gun. The gun was outfitted with several pieces of PVC piping creating a larger barrel and scope. All PVC pieces were mounted using hot glue. The gun was then primed and painted. For safety purposes, a connection was added to the tip and was painted yellow. Holes were drilled into the barrel and glow sticks will be placed into the barrel. The hope is that the light from the glow sticks will illuminate the barrel of the gun.
The costume received positive reactions from friends, family and strangers. Prior to Halloween I began posting pictures of the costume on my Face Book page. The costume received over 358 likes and over 50 comments. Walking down the street prior to the evening my son had vehicles pulling over and taking pictures of him as well as tons of "great job" comments being shouted from vehicles.
In concluding the costume making process was a time in which I was able to bond with my son and father as well as both my son and father bonding with each other. The costume was such a success that my son is already talking about how we can improve upon it for next year.