Holly Bo Peep and Natalie, the Sheepie Costume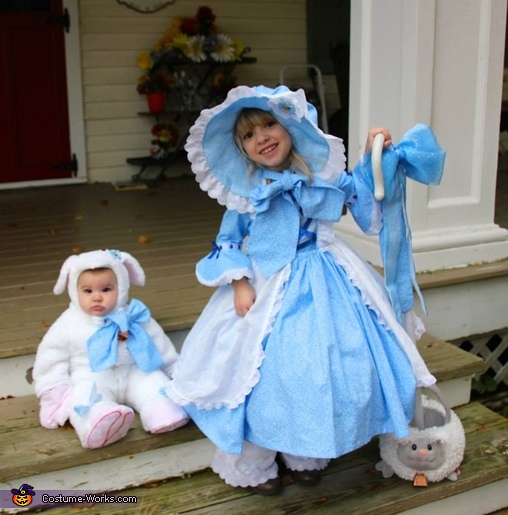 Holly Bo Peep and her Sheepie
More views:
(click to enlarge)
A word from Eileen, the 'Bo Peep and her Sheepie' costume creator:
Holly age 3 and Natalie 7M (Halloween 2014)

Holly is Little Bo Peep. My aunt made her entire wardrobe. Even the pantaloons, slip, bonnet, and bow for the staff. (The staff I bought online). I sent along a photo of just her so you could see the detail in the dress. It's amazing. The 'bee' button on the bonnet is my aunts signature. "Aunt Betty with a Bee". It's hard to see the pantaloons but they have ruffles on the bottom as well. She has sparkle ribbon on the bodice that match the sleeves. It's very full and my daughter loved it. She even enjoyed wearing the bonnet. We picked this out because we lived in MA and it's chilly there for trick or treat so we wanted something that would be warm without wearing layers of clothes over it. She also loves dresses so we thought this would be best. Her favorite color is blue so we thought blue would be best and my aunt had this fabric in mind anyways. I do know she used like three different patterns to make this dress. One for the skirt, one for the top, and one for the pantaloons. It was so perfect!

Natalie is the sheepie. Again, my aunt made all of this. Super crazy soft and snuggalee!!! I could cuddle her forever!!! We wanted to make sure she was warm and to make sure she looked like a sheep. Fur would't work so my aunt found this super soft soft stuff that was perfect!!! She's got hooves and hands. One of her hands has a squeaky because she was crawling so we thought it would be cute when she crawled and squeezed. The bell was a perfect touch and she loved to eat that. She had extra bows to ensure that people would know she was a girl. I sent along another photo of her so you could see her cute little sheepie tail too! She was so happy and totally ok with me dressing her up in this and taking her photo's. She was just so snuggled in there. And the 'bee' on her ear as my aunts label.