Blazing Rider with Bike "HER" Chick Costume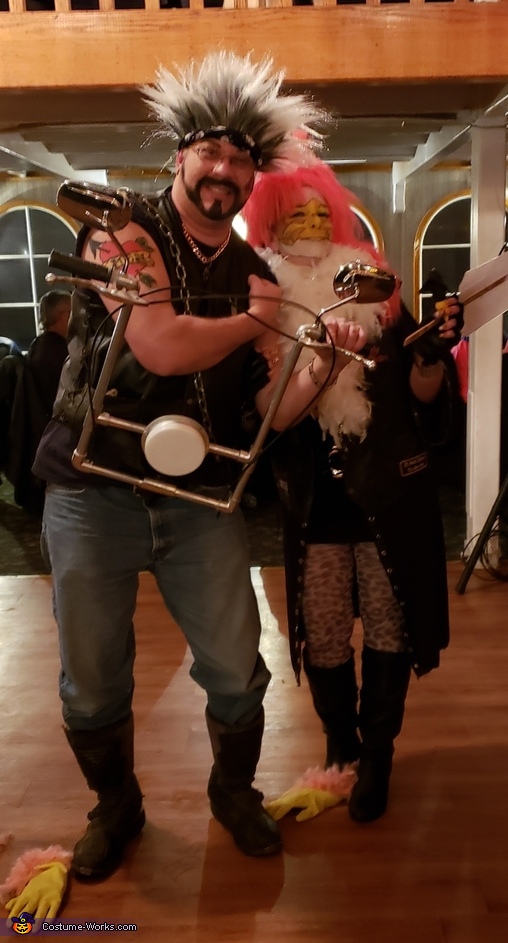 Blazing Rider & Bike 'HER' Chick
More views:
(click to enlarge)
A word from Renee, the 'Blazing Rider with Bike "HER" Chick' costume creator:
Blazing Rider & Bike "HER" Chick Jack Swanson and Renee' Schafer are close friends of 10 yrs. We encourage each others creatively with costumes and face painting ideas every year whether together or apart.
The idea came from the YouTube movie video of Blazing Saddles/Auditions. Jack created the biker handlebars out of PVC pipe and spray painted them silver adding his own rear view mirrors, front light, and sound affects. Sound came from unassembling a toy part that sounded like a motorcycle engine. Doned with gears,& chain added to his leather vest,Renee'painted a scar on Jack's face along with a "MOM" tattoo on his muscled arm. She also found a spiked wig and bandana to complete his costume.
Renee' creatively inspired by the word "Biker Chick" assembled her original idea of a Bike Chick by painting her face as a cute chicken that she found on Pintrest. Adding a white boa for feathers about her neck and a homemade creative tail, Renee' even had her nails artistically done to match the theme. Pink feathers were hot glued onto yellow rubber gloves and worn on front of her leather biker boots (these didnt stay on well). She also found feather looking tights, a long black chained dress garb and Jack created a sissy bar for her that was belted under Renee's leather vest. A pink spiked wig added for effect and the Rider's drove into a crowd of admiration on the Michigan Princess Boat dance floor. For additional props Renee' created a feathered box of wind-up Dollar Store chickens she glued into the box and totally wowed the single guys by telling them that, if they got lonely she brought a few extra "chicks" along to keep them company. Loads of fun and unique.
The total for both costumes was $148.00
Thank you for the opportunity to enter!