Big Bird and Oscar the Grouch Costume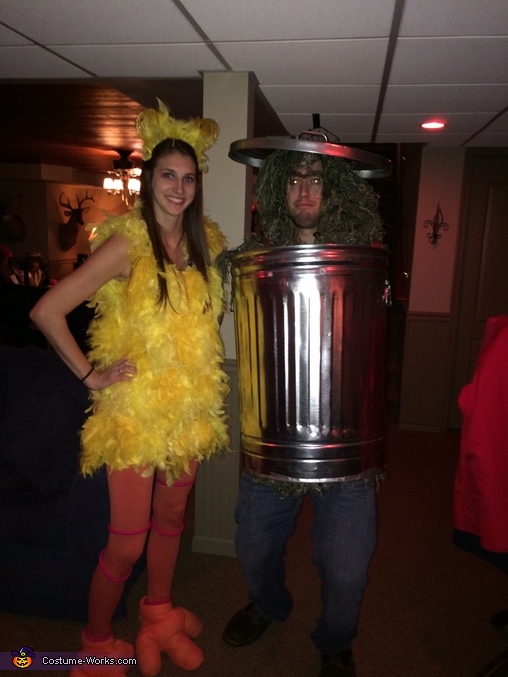 Big Bird and Oscar the Grouch
More views:
(click to enlarge)
A word from Mandalyn, the 'Big Bird and Oscar the Grouch' costume creator:
This year I wore a completely homemade costume, from head to toe. I used yellow fleece I had laying around the house to make a tank dress. Then I cut up 4 yellow boas and hot glued them all over the fabric to create the feathered look. Fabric cut in the shape of a tail was created and filled with stuffing and a wire hanger then attached to the dress. Big Bird's feet were made from cutting then sewing pieces of fleece together and filling them with both a shoe (in the middle toe) and stuffing. I paired this with orange leggings and bought pink cord which I glued in band shapes to place around the legs. I topped the outfit with a headband glued with feathers that fell off of the boa when creating the dress. Since I already had a few of the materials and used a bunch of coupons at the craft stores, the costume costs only about $30 to make, but took a few hours to make.

Oscar was created by wearing the jacket of a hunting ghillie suit. Makeup was used to create a thick unibrow. We bought a trashcan at a home improvement store, cut out the bottom and attached straps so that it could be worn all night. For this costume, we only bought the trashcan which was also $30.