Beetlejuice and Lydia Costume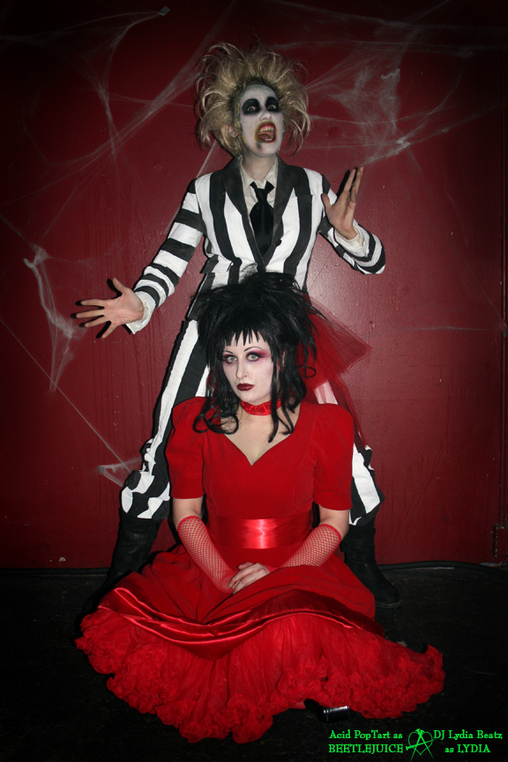 Beetlejuice and Lydia
More views:
(click to enlarge)
A word from Anastasia, the 'Beetlejuice & Lydia' costume creator:
It's one of our favourite movies, so we knew it just had to be done - this is myself and one of my best mates dressed as Beetlejuice and Lydia! We wore this to a big Halloween edition of a club night called Rue Morgue where my mate, Jody was dj'ing - appropriately dressed for her DJ name is Lydia Beatz!
The costumes were rather easy, she found her amazing red "wedding" dress from a thrift store over the summer and we hadn't even planned on the costumes yet but she picked it up knowing she'd need it for something! She added a veil plus a wig she created with additional hair wefts for Lydia's trademark do. My jacket and pants were all white and found at a thrift store for about $8 and after painstakingly taping down the perfect lines to match the lines of the jacket and still look symmetrical, I begin to use this fabric spray paint which was a huge disaster as the lines bled and once dry, the black was more a faded black, we resorted to plan be which was re-paint with acrylics. I was hard at work on another costume, so my husband the perfectionist painter took over and once all the black stripes were nice and dark and perfect, he then begin to paint the white to cover up the bleed and then back to the black for any white overbleed! It did take some time but well worth it because it's perfect! The wig I styled with a lot of teasing, hairspray and a hair dryer (with synthetic hair, spraying then teasing and hitting with a hair dryer will help "set" it). Make up was liquid latex with some bits of toilet paper (old movie trick) some base eye shadows and flour for additional texture.
We were fully in character and got a lot of comments, apparently we were absolutely "adorable" when dancing together. It's SHOWTIME!