Female Beetlejuice Costume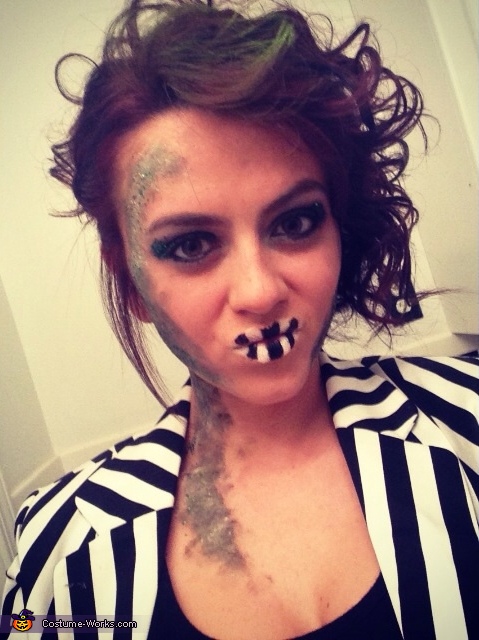 Female Beetlejuice Costume
More views:
(click to enlarge)
A word from Jordan, the 'Beetlejuice' costume creator:
I got the idea of this costume from simply the movie... It's my favorite halloween movie.. So I thought id make a girl version!

Instructions:

I bought my black and white vertical stripped blazer from forever 21! And I bought my black and white leggings from wet seal! And then I used a long black tank top that I already had. My boots are Steve Madden combat boots that I already had! I went to a Halloween store and I bought liquid latex to make the moss for my face. I also bought black, green, and white face paint and used my fingers to pat on top of the liquid latex. I put it on one side of my face going all the way down to my chest and just a little on my jaw line on the other side of my face. I also went to micheals and bought green and black glitter for the moss. Tried to make it as girly as possible. The eyeshadow I just did a smokey eye and also out green glitter on the outer corner. My hair.. I curled it and did a braid on the side with a black and white striped hair piece from Walmart. And I bought green hair paint from party city. My nails were also black and white striped. My lips.. I used liquid eyeliner and the white face paint I had bought. This costume is very simple to make if you have the right stuff to put it together!