Beauty and the Beast Costume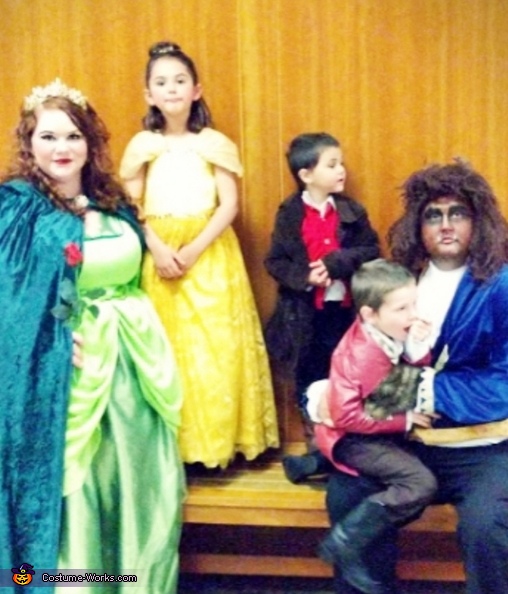 Garrison Family- Beauty and the Beast
More views:
(click to enlarge)
A word from Karaleigh, the 'Beauty and the Beast' costume creator:
This year our family dressed as characters from Beauty and the Beast!

Jacob was the Beast in a 100% custom handmade blue velvet tuxedo jacket, gold vest, and beast gloves/tail. He wore a standard pair of black pants, a white shirt, and a white crevat. He wore a large wig, altered "devil" horns, and "Beast-" worthy makeup. All pieces made/altered by his wife, Karaleigh.

Karaleigh was the Enchantress in a handmade cloak and petticoat with a significantly altered dress found at the thrift store (lime green bodice and sides were original, but had to be altered considerably to fit).

Aurora (8) was Belle in another gorgeous but heavily altered thrift store find- originally a woman's size 14!

Joshua (7- severely autistic and nonverbal, T1D) was Gaston in his amazing jacket, altered from a woman's size Large, adorned with recognizable quotes such as "Roughly the size of a barge," "Biceps to spare," and "As a specimen, yes, I'm intimidating." He wore a brown vest, brown pants, a white shirt, and boots to complete his ensemble.

Benjamin (4) completed the group as Lefou, in his altered red vest and brown jacket, alongside his white shirt and black pants.

All pieces were made/altered by Karaleigh. Tips- altering is easier than making something from scratch, and is usually cheaper too since fabric is so expensive. So, if you can find something similar enough at the thrift store for a reasonable price, snag it while you can and turn it into the perfect costume. It is always easier to make a piece smaller than larger, so keep that in mind while shopping. Amazon is a great place for those little extras that you forget about until the last minute. Lastly, don't forget about the person you are dressing- a grumpy man who is not thrilled about having makeup put on him makes a great Beast because the Beast should look a bit on the angry side anyway. Fidgety children need simpler costumes that don't require too much work for them to put on. It would have been impossible to make Joshua or Benjamin the Beast because neither would have kept on the wig or even let someone put makeup on them.