Beauty and the Beast Costume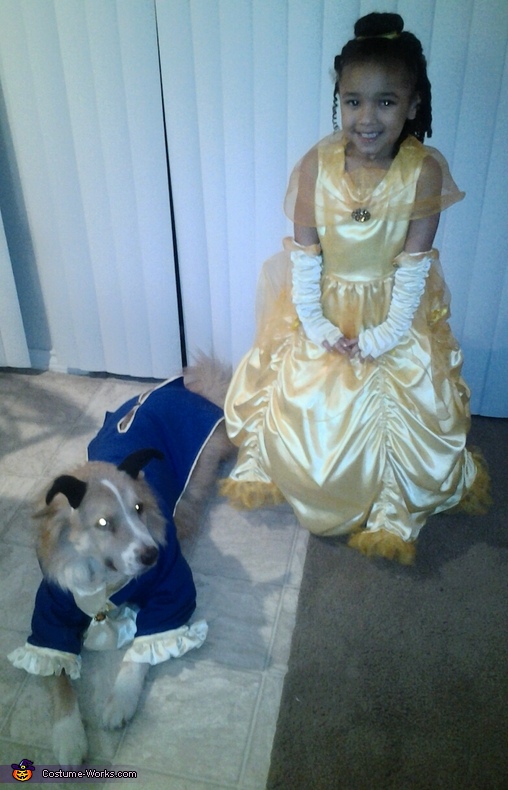 Belle and Beast
More views:
(click to enlarge)
A word from Lovett, the 'Beauty and the Beast' costume creator:
My four year old daughter is Belle (Beauty) and my 8 year old dog is the Beast. The Beast costume was made from a resell jacket and scraps from the Belle costume. Also brought devil horns and covered them with dark fabric and attached them the elestic for the Beast's horns. Total cost for Beast costume was $15.00

Belle's costume was created from an altered pattern for a girl's formal. We added the overlay and jewels at key points on the dress. We brought the gloves and cut the fingers out and removed the original trim and replaced it with trim and jewels matching the dress. The dress did not hang right with just a tulle slip so we made a hoop skirt to go underneath the dress for fullness, movement, and lightweight movement since she had to do a little dance in her costume for class. The hoop skirt was made with a long slip that had one layer of stiff crinoline attatched. The hoops came from using two rings of a wreath form since it was impossible to find the hoops they use in these dresses avaible in our local stores. But if time permitted we would have brought the hoops from. A dance or costume shop online. We made a ribbon channel one the outside of the slip for the wire wreath formring to slide into. We used two...a smaller one close to the hip area and. A large one between the knees and the ankles. Total cost $30 with coupons, sales and reclaimed slip.