Batman, Batgirl & the Arkham Knight Batmobile Costume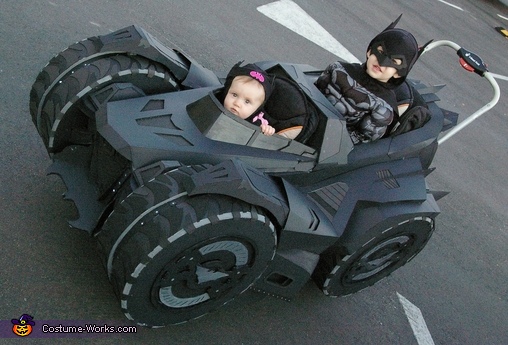 Batman, Batgirl & the Arkham Knight Batmobile Costume
More views:
(click to enlarge)
A word from Jonathan, the 'Batman, Batgirl & the Arkham Knight Batmobile' costume creator:
My wife and I have 2 great kids Isaiah (2) & Kylee (8 months). Batman and Batgirl were their costumes , so I had the idea of turning their double stroller into The Batmobile from the Arkham Knight game.
The batmobile was made from 18 sheets of foam board (size 22 by 28), 7 sheets of poster board( size 22 by 28), 6 sheets of craft foam, 1 1/2 sheet of EVA foam, Hot glue, modpodge, jet black paint, gray paint, Red cellephane, LEDS and a little styrofoam. Tools I used were a hobbie knife, scissors, cutting board, pen & paper and a hot glue gun. The whole thing can be broken down into just 3 pieces the stroller, the car (shell) and the trunk. It sets high so I could take the Batmobile off the side walks through the grass and other terrain.
The Batmobile's frame was foam board and poster board was the skin, holding all of it together is Hot glue. 12 LED's were added in the front and 3 in the back, Also used craft foam to detail the areas such as the grill, hood scoops and vents. The booster was made of foam board and poster board with black craft foam for texture. Inside the booster was orange craft foam and one LED that together created a nice orange glow I also added some orange flames just inside the booster.
My son originally sat in the front seat but outgrew it so my daughter now sits in front and is almost too small for it but I think it makes her look more cute lol. To make it easier to set my daughter in the front seat I built the hood separate from the base then made a hinge so the whole canopy can be raised. It looks cool and takes people by surprise when they see it used. The whole project took about 2 months to finish, I don't have a work shop only my living room and could only work on it when our kids were asleep. I averaged about 3 hours a night depending on how hard work was that day and if our kids went to bed at a decent hour.
Our kids costumes started out as store bought but were customized to look and function better. The major things were their masks and hoods, Batman's mask was plain so I trimmed a few of the edges and with craft foam made a mask that had a more sterner brow and pointier nose. Craft foam was also added to the bat ears for a more helmet type feel, also added 3 blades on each arm with craft foam. Batmans cape was tiny so I added longer and thicker cloth.
Batgirl's hood was just a beenie so I added some craft foam to make bat ears more pronounced and to protect my daughter's ears from the cool night air I extended the beenie to make a full hood that velcroed under her chin. With some left over craft foam I also made them some batrangs.
The reaction we got from other people were WOW, thats amazing, and when people found out I made the Batmobile there jaws drop, I even heard one kid say look mommy thats the real batman. needless to say we all had a great Halloween.