Batman in Batmobile Dog Costume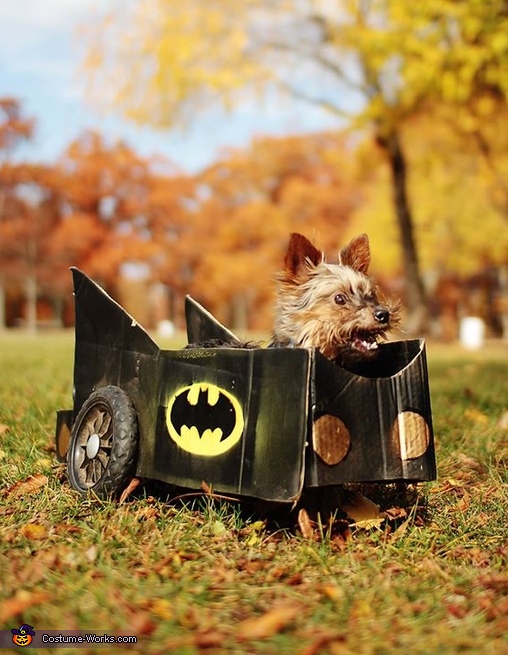 du-na-nu-na-nu-na-nu-na BATMAN
More views:
(click to enlarge)
A word from Amber, the 'Batdog' costume creator:
Renny was hit by an 18-wheeler at the age of one, and he was partially paralyzed. I adopted him at the age of 5 from a shelter, and I hooked him up with some awesome wheels so he could roll around town and woo all the lady dogs. When thinking of a costume, I wanted to definitely put his wheels to good use. I went through a number of ideas, but the Batman in his Batmobile was by far the winner, because all of Renny's courage and strength in overcoming his disability proves to us that he is a true superhero!

For the Batmobile, I used cardboard box, plastic zip ties, and spray paint to make this costume. I cut the box out in the shape of a Batmobile and attached it to his wheelchair using zip ties. The cardboard was spray painted with black and yellow for the Batman logo. For Renny's outfit, I used a plain gray dog hooded shirt and ironed on a Batman logo to the shirt. I decorated Renny's belly band (his paralysis has also caused incontinence) with some excellent Batman duct tape. And for extra decoration, I dressed up his adopted brother Winston as his sidekick, Robin!

Renny drew attention from everyone he passed! We had strangers stop and take pictures and want to learn more about his story. The costume was so seamless that some people didn't even realize that he needed the wheels in order to walk! Renny absolutely loved every second of the attention... He loves to roll right up next to people (and sometimes roll right onto their feet!) and give them kisses in exchange for scratches. The adoration he received from everyone around town really boosted his ego!

Renny has stolen my heart and I hope that he steals yours, too. His strength and tenacity and overall studliness as Batman make him a deserving winner of this prize.