The Neverending Story: Bastian, Falkor & Moonchild Costume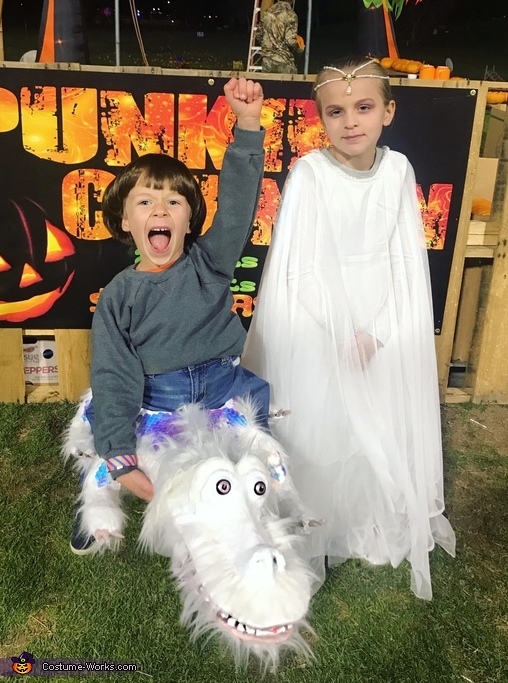 Their first outing in their costumes
More views:
(click to enlarge)
A word from Serena, the 'Bastian, Falkor & Moonchild' costume creator:
Every Halloween our family has the hardest time choosing what costumes to make because... we want to do all the things! This year my mom heart just about exploded when the kids finally settled on The NeverEnding Story. Our sonís name is (yes, actually) Bastian and chose to be Bastian Balthazar Bux riding his luck dragon, Falkor. Our daughter Penny opted to be the Childlike Empress, aka Moonchild. We had ideas for other Fantasia characters for Mom and Dad but they will have to wait since these two costumes took so long!

My daughterís costume started with an affordable basic white dress (satin empire waist with tulle skirt) purchased online. The rest of her costume components came from craft stores. I found a silver tone DIY necklace piece that was a pretty good match for the center of Moonchildís iconic head jewelry. I added some gold paint, replaced the gem on it with a Pearl, and swiped the teardrop pearl off a set of clearance earrings to add to the bottom. I used jelly cord and strung faux pearl beads for the rest, making sure to leave an anchor cord on the back to tuck into her ponytail to secure the headpiece. We finished her dress by stitching folded layers of white netted fabric around the entire neckline, cutting the fabric away from the neck hole, and then twisting and attaching pre-strung pearl strands to finish said neckline with hot glue (we could have sewn them on but were short on time!) It is currently really cold where we live, so the thermal shirt seen poking out of her dress above the neckline and on her arms in the photo is not part of the dress. :) We used basic eye shadows and a pale face powder to mimic the characterís makeup.

The Bastian/Falkor costume was much more time consuming. It was many hours of improvised paper m'chť (using wallpaper glue), alternating layers of newspaper and then thicker paper bag/egg carton materials to try and make Falkorís body as sturdy as possible. We used ping pong balls for the eyes, hanger wire wherever needed to form and strengthen the tail and legs, and fixed a cardboard box frame into Falkorís center that my son could just barely but comfortably get into. Ribbon straps were tied to the box and later adjusted to act as suspenders over my sonís shoulders to hold up the costume. Falkor got a full coat of white paint, to which my mother painstakingly hot glued sequin ďscalesĒ (we cut these off of ďmermaidĒ fabric because they were the closest in color and shape we found) and individual tufts of fur cut from a large piece of fluffy white fabric from the fabric store. Nail polish was added to give life to his ping pong ball eyes and claws.

Once Falkor was more or less complete, we took an old pair of jeans that were just larger than my sonís waist and made a cut at the crotch seam only big enough that he could step into the costume and still appear like he was wearing the jeans. We filled the legs and waist area of the jeans with foam, Pringle cans and plastic bags, and continued to played with the shape to try to give that comical illusion that these were Bastianís actual outstretched legs riding his luck dragon. We added old socks and shoes to finish the legs and bought a Bastian style grey sweater to slips on last to cover the suspenders and unify our sonís actual torso with the costumeís fake legs. Finally, I gave a short brown wig a literal bowl cut to match Bastianís signature look.

We spent around a hundred dollars between the two costumes, mostly on the purchased clothing and wig that we did not already own, plus beads, fabric and glue. It was so much work but worth it all!