Back to the Future Costume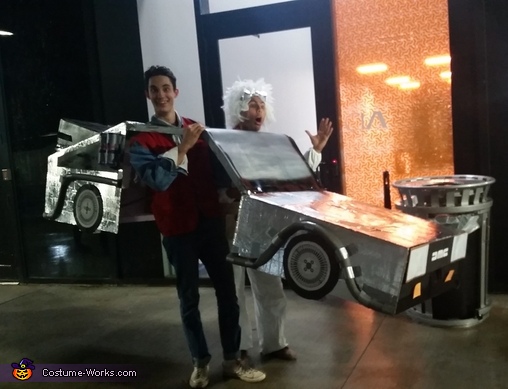 Roads? Where we're going, we don't need roads.
More views:
(click to enlarge)
A word from Kevin, the 'Back to the Future' costume creator:
I am dressed as Doc Brown and my friend is dressed as MArty Mcfly. We decided on becoming the dynamic duo because we wanted to go all out this Halloween and build an actual Delorean with found objects. The Delorean was the highlight of my University's Halloween party. The vehicle weighs below 25 lbs, 8 feet by 3 ft and 2 ft high. The actual car consisted of:
cardboard,
thin pieces of plywood (used to reinforce the structure)
pink foam (for sturdiness)
insulating tape (for the reflective exterior)
black and metallic spray paint
acrylic paint
hot glue
bristol paper
foam tube
and a lot of duct tape

We competed for the Halloween Costume Contest but we fell short when the Duet costume category was won by a pair dressed as the Mad Hatter and Alice (from Alice in Wonderland). But nothing was more fulfilling to hear the standing ovation of an entire student body while entering the ballroom. And even better, the look on the skeptics faces who said such a thing wasn't possible. I might have stressed myself out doing such a grand feat (A total of 15+ hours) but surely its one of the best Halloweens of my life.