Baby Predator Costume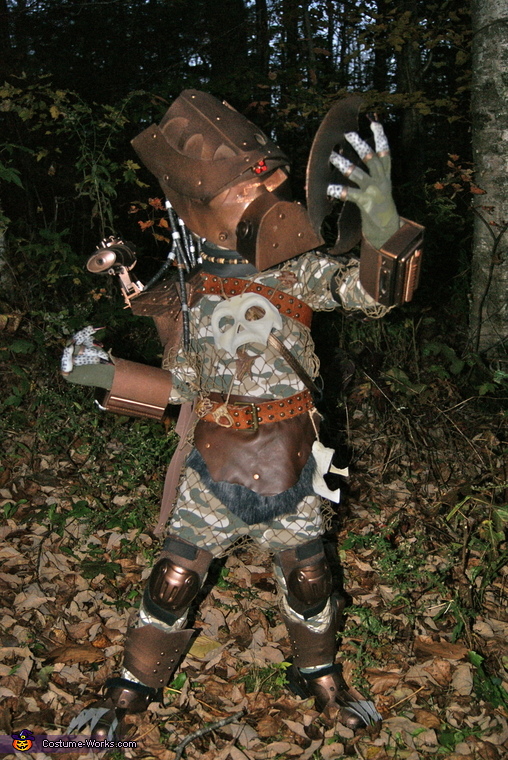 Baby Predator
More views:
(click to enlarge)
A word from Kristen, the 'Baby Predator' costume creator:
Our 3 1/2 year old son Lucas is a "Baby Predator" for Halloween this year.
My husband Jason who has been obsessed with the classic movie The Predator since its 1987 release (as well as Arnold Schwarzenegger) decided in JANUARY to make this costume for Lucas. He has spent many nights and weekends perfecting the detail. There were many phone calls to me to pick up different materials from the craft stores on my lunch breaks/after work throughout the past few months as well as too many "Why did you throw that away, I could have used that for his costume?" conversations. At one point, my son (keep in mind he was just 3 years old at the time) was at the library playing at the Thomas the Train table. There was a broken piece of one of the buildings sitting on the table. He picked it up, looked at it at every angle, looked at me and said, "I think I'll take this home. I can use it for my costume." Though Lucas is not nearly old enough to view the movie, Daddy has a figure of the Predator that he's been able to see and play with so he is VERY excited to go Trick-or-Treating in his costume. He has had to spend many nights trying on bits and pieces of the costume to make sure each piece fits right and is comfortable. It has been difficult to explain all these months that he has to wait until October 31st to T-O-T and it will be more difficult to explain that we can't go because of the MASSIVE storm that is supposed to hit - cross your fingers for us that we don't have to tell this kid that he can't go Trick-or-Treating. My husband did an AMAZING job on his this costume (as he has every year since Lucas' 1st Halloween).