Baby Porcupine Costume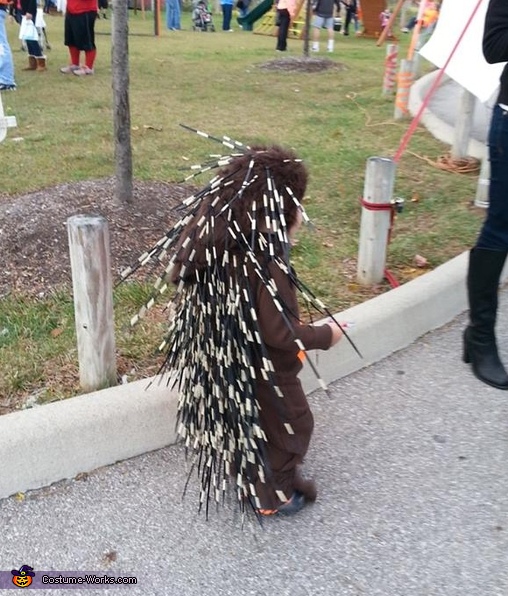 Side view
More views:
(click to enlarge)
A word from Deanna, the 'Baby Porcupine' costume creator:
I wanted to make my two year old son a costume that was original a cute before he got to the age where he didn't want me to, so the porcupine came to mind.
Supplies needed:
1 yard fur ($8)
250 black zip ties (various lengths, 14'', 10'', 7'') ($15 total)
Masking tape ($2)
Needle
Thread
I used fur from the fabric store that I cut into a cape (with a point like a tail), it had to longer pieces that I used to wrap around his neck (I attached buttons to hold it up). I then used 14'' black zip ties as the quills. I cut tiny slits in the fur and attached the zip ties all over the fur. Then I used masking tape and wrapped them randomly on each zip tie, to make the quills look realistic.
To create the head piece, I used an old hat as a pattern and cut pieces of the fur out and sewed it together into a hat with straps (it wasn't perfect but as long as it fits it looks cute). I cut out another piece of fur that I cut into a point to attach to the hat (it looked like a long triangle). I made the point cover the neck and sewed the top of the piece of fur to the crown of the head piece. I added about 50+ quills to the head piece.
Finally, I took a few pieces of fur and cut them into a paw shape (large enough to cover my son's shoes). I wrapped them around his ankle and attached them with buttons.
He just wore a brown thermal shirt and brown pants.
It seems a lot more complicated then it really is, the part that took the longest was attaching the quills.