Baby Rufio Costume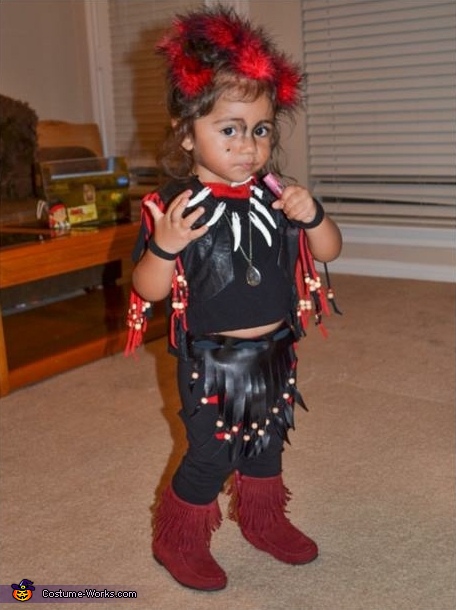 baby Rufio
More views:
(click to enlarge)
A word from Sara, the 'Baby Rufio' costume creator:
Here is my daughter at 1 1/2 years old dressed as Rufio, Leader of The Lost Boys, from the 90's movie Hook. While every other girl is dressed as one of the typical Frozen Princesses....here... we have epic awesomeness!!! :)

Her costume was hand-sewn and crafted by me. I used real leather for the vest; faux leather and beads for the warrior belt; I did some t-shirt cutting; added the beaded sleeves with some cut up tshirt strips; bought a "stoneage" teeth necklace that was all grey, so i painted it white; My favorite part has to be the trademark red-spiked hair. I got a feather boa from a craft store, cut it into 3 long pieces that fit the size of her head. Then turned them into hair clips for easy apply. The tribal boots were a miracle find at Goodwill. Gave her a sword and she was ready to battle captain Hook lol..

Everyone was telling me she was the best costume of all time :)
Had to Share!!!