Baby Peacock Costume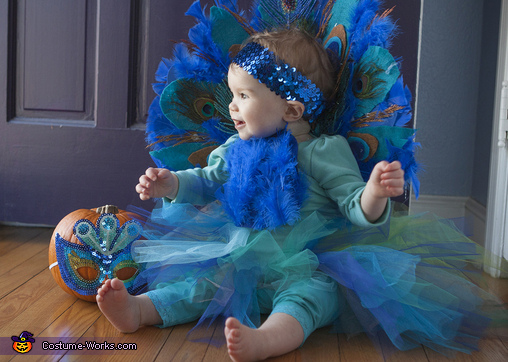 Baby Peacock Costume
More views:
(click to enlarge)
A word from Shannon, the 'Baby Peacock' costume creator:
This is our baby girl Tessa Skye, who is 11months old, as a peacock - her first Halloween.

The costume is entirely handmade, except for the mask, which was only worn by her trusty pumpkin pal. :) I created the pattern / design entirely myself. While I saw a few peacocks for babies online, I didn't love any of them, so this idea is original to me.

The costume was originally going to be just a tutu and a headband, but once I had a few feathers in my hand, I got carried away!

I created the tutu from 7 colors of tulle, tied to an elastic waistband. The headband has a back feather sticking up like a real peacock does. The back-feather piece (the star of the costume) started as a piece of blue foam. I cut it in a curvy shape and added layers of felt, blue feathers, sparkle feathers, and fake floral accent pieces (the gold wheat) -- using a glue gun. I covered the back of it entirely in blue feathers, so that little to no foam is showing.

Then I had to get creative with how to attach it! I didn't want the elastic to show too much and it need to stay on a moving baby. So I poked holes in the large piece for elastic to come through. And then I created a feathered tummy. The elastic attached over her shoulders and across her tummy, with the feather piece covering her tummy. Once she had it on it was very secure and she wore it for a long time!

I don't have the time to do a lot of craft projects, but spending the time on this was such a joy and celebration of our third baby, who is very special to our family (she has two older siblings, ages 11 & 7). I am so glad I did it!

Thanks for letting us share it with your viewers!