Avatar Couple Costume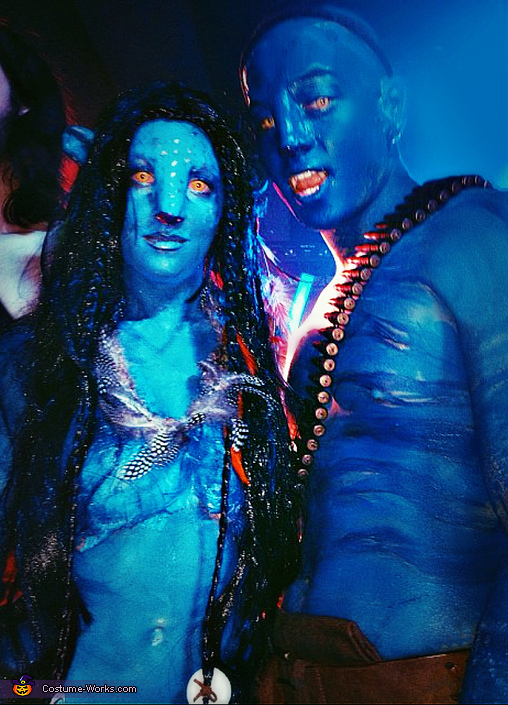 Blue Everything
More views:
(click to enlarge)
A word from Jared, the 'Avatar Couple' costume creator:
Everyone has seen James Cameron's 3D blockbuster that was years in the making. As we are always up for a challenge, my girlfriend and I decided to take a stab at the avatar costumes despite the really funny looking outcomes we saw pictures of online.

The most important parts for achieving the look would come down to the nose, eyes and shade of our painted skin.

Using liquid latex and a clay mold we created a facial prosthetic to have the nose be shapes just like that of the Navi from the Movie. having no other choice we purchased yellow contact lenses, often advertised as avatar lenses. People have run into problems in the past with liquid latex covering their body; so we did a little digging and found out that you cn create reliable body paint with PROS-aide, a professional make-up adhesive that can be blended with acrylic paint. JUST BE SURE TO HAVE "BEN NYE BOND OFF" and plenty of it because it is otherwise very difficult to get off.

The best costumes are ones made from non purchased materials and that have a personalize flare to the original concept, so I will provide general instructions.

NOSE
1)Measure nose width, length and height and create clay mold (MOLDING CLAY) to specifications leaving excess trim for adhering mold to face.
2) Apply five or so layers of liquid latex with baby powder applied over in between each layer, allowing to dry before the next.
3) Gently Peel off after final layer has dried and trim excess material.
4) Position on nose using Pros-aide or spirit gum as adhesive after filling inside loosely with cotton balls to maintain shape.
5) Use base layer of face paint, a blue, white and green blend works best, mix some glitter in there if you want some theatrical shine.
6) Small fangs, yellow contacts and long black hair wig complete the look. Some tribal painting using metallic paint are a good finish.

BODY

This is where the personal touch is useful. We just used leather scraps and brown fabric from the craft store to create clothing and accessories. Use a sewing needle to attach and make items.

WOMEN

Girls could get bra pads and cover them with latex or nitrile peices cut from gloves and glue it to the pads. Then using more latex sheets (cut into flat pieces) can use prosaide to adhere bra pads to skin.

Men & Women

Mix a small batch of the pros-aide and acrylics together applying to skin to get the hue correct. Let it dry for true shade visibility. Once proportions are found mix a large batch. About 8 o.z. required per person. Be generous with Prosaide content! It will make it easier to get off.

After you cover parts of your body, lightly apply baby power to covered area as it will otherwise stick to everything, including yourself! It is very helpful to have someone else there to do you back and back accents.

Let base layer dry. Mix slightly darker batch of paint, about 2-3 o.z. and create stripes using a q-tip.

Wash Hands and put in lenses.

Dry hands and reapply paint to hands, let dry and apply generous amount of baby powder to hands.

*For an added theatrical effect bring out some glow sticks and cut them open, if there are black lights in the area you will glow like the avatars looked in the movie.