Austin Powers International Man of Mystery Costume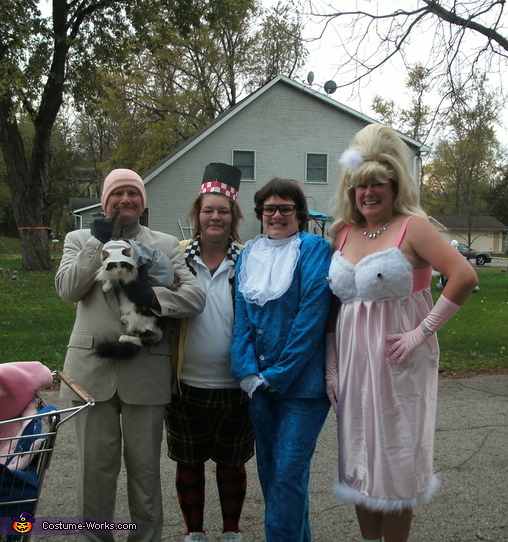 Austin Powers International Man of Mystery Costume
More views:
(click to enlarge)
A word from Lori, the 'Austin Powers International Man of Mystery' costume creator:
We are the Alexander Family & for the last 20 years USTIN we have been Trick or Treating for the local Food Pantry.
every year I handmake most of our costumes. This year we decided to do Austin Powers since it is it's 20th anniversary too.

My daughter Shannon was dressed up as "AUSTIN POWERS"
Her suit is made of a Blue crushed velvet which I lined the whole inside with a mid grade cotton material to keep suit semi-firm plus to help keep warm too. As for the ruffle around wrists & neck that was bought, same for wig & glasses. used a mans mod wig.

My husband was "DR. EVIL" he wore a light grey suit I altered with clasps to look like the characters outfit. He did have a bald head cover on but since it was so cold I had him wear a flesh tone winter hat to stay warm.

My other daughter Lynnette was dressed as "A FEMBOT" (robot) I made a slight change to material due to weather, etc. I bought a pink bra & attached white fur on the breast area and sewed a ping shimmery material for the gown of the nighty. I then hand sewed the furry feather trim on the bottom & then I hot glued the small piping to her breast area to look like the guns.
Used an actual Fembot wig & attached a bit of feather trim.

I was dressed as "FAT BASTARD" I found a yellow sweater at the resale shop & attached a Scottish flag iron-on to the right side of chest area and sewed black ribbon around the front near the edge of sweater. Also by the pocket area & around wrist area.
Had a white Polo shirt & used a permanent marker to make black & white checkers around the neck.
Used a red/black/white pajama pants & cut then into shorts, then used a yellow marker to cover the white.
For the socks I got a long pair of red socks put a long pringles can in each sock & drew the diamonds on & filled in every other one solid.
As for the hat I used a large piece of thin black foam & cut & glued it together, I used white thin foam to nake trim on hat, I used a red marker to make the red & white checkers in it, I then cut out reddish brown fur & glued it to the had for hair & sideburns.

MINI ME......was our cat Nuggy Bear. I made her a grey suit with snaps on it, the material was a soft vinyl inside to keep her warmer. Then I made her a mini fleshy white material to be like a bald head. I cut 2 holes for her ears to fit thru for comfort. I attached it with elastic.