Atolla Jellyfish Costume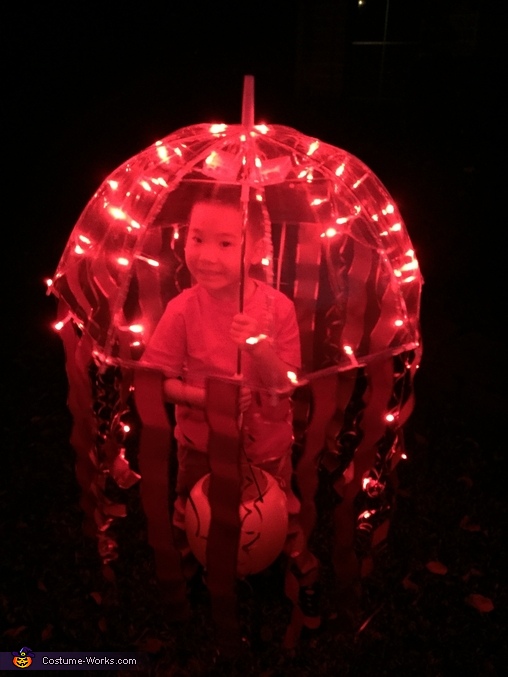 Atolla Jellyfish Costume
More views:
(click to enlarge)
A word from Annette, the 'Atolla Jellyfish' costume creator:
Austin, age 6, from Texas, is dressed as a bioluminescent Atolla Jelly. When he was 3 years old, he read about a red, bioluminescent Atolla Jellyfish that lives deep in the ocean. Since then, he's been in love with all types of jellyfish, but the Atolla Jelly is still by far his favorite. He knows lots of facts about jellyfish and loves to share them with others. He asked to have an Atolla Jelly party for his sixth birthday, so we weren't surprised when he asked to be an Atolla Jelly for Halloween. When I told him that I wasn't sure how I could make the costume, he suggested using an umbrella. I was surprised when I did an internet search that showed several people using an umbrella for a jellyfish costume.

For the bell of the jellyfish, I used a kid's clear bubble umbrella. I attached red wire ribbon to the outside of the umbrella with a hot glue gun to make the oral lobes. I spaced them out all around the umbrella. Then I folded the red ribbon in wide sections to make the oral lobes wavy. Next, I attached red curling ribbon to the edge of the umbrella with a hot glue gun for the tentacles. I attached the curling ribbon between the wire ribbon, and then slightly curled it with scissors. The last step was making the jellyfish "glow." I attached two battery packed micro LED red lights to the inside of the umbrella. I used clear packing tape to secure the battery packs to the top of the metal frame of the umbrella. Then I lined the inside sections of the umbrella with the lights, securing them with clear packing tape as well. To complete the costume, Austin made sure to dress in red from head to toe, so he could look like a real Atolla Jelly. He loved his costume, and he received lots of compliments while he was trick or treating!