Astranaithes Dragon Witch Costume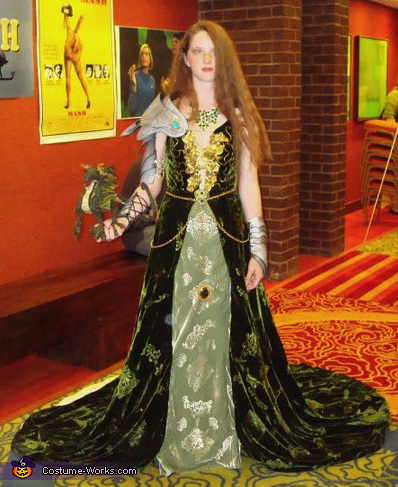 Faerie Con, Baltimore MD finished front view
More views:
(click to enlarge)
A word from Suzanne, the 'Astranaithes Dragon Witch' costume creator:
Modeled by: Cheyenne Allen
Based upon original artwork Astranaithe Dragon Witch by renowned fantasy artist Nene Thomas.
The dragon Jade, as well as the gown are all original designs/patterns. All leather work are original designs created by Jeff Horist an armorer and leather craftsman.
Using a dress form, I draped muslin to create the pattern for the under skirt, and over gown/bodice. The under skirt is made from pale sage green silk velvet (6 3/4 yds. 44" w.) which had to be hand embossed to create the burnout design. The over gown/bodice is made from deep forest green silk velvet (9 1/2yds. 44' w.) which was also hand embossed, and application of raised gold fabric paint, gold painted floral pieces, and gold chain back closure. Both over/under skirts were lined in white chinese sheer silk, and the bodice in 100% cotton coutil with flexible boning for structure. The dragon Jade was made using green/gold scale design 100% cotton batiste for the body, gold scale design cotton/rayon upholstery fabric for the underbelly, green silk organza for frills and wing membranes, and burgundy suede for the mouth. There is 16 gauge wire running the length neck to tail, 2 wooden spools for hip/shoulder bracing, buttons for design, lots of cotton batting, and red crystal eyes. There are 14 individual pattern pieces I had to create, and nearly all construction on Jade had to be sewn by hand.
The gown was completed in approximately 56 working hrs from concept to finished design, at a cost of $325 for fabric and additional materials, silk velvet is very expensive. Jade the dragon was completed in about 27 working hrs from concept to finished design, at a cost of nearly $32.
The leather armor took Jeff approximately 3 wks to complete from concept to finished design, at a cost of $125, leather isn't cheap either.
I recently showed this at Faerie Con, Baltimore MD, where she received high praise, and Jade gained a fan club.