Annabelle Doll Costume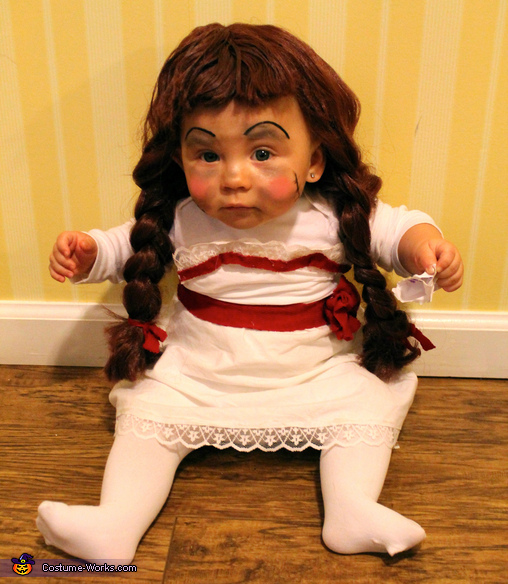 Miss Me?
More views:
(click to enlarge)
A word from Jennifer, the 'Annabelle Doll' costume creator:
My daughter Alyvia, who is 9 months old, is wearing this handmade Annabelle (the doll) costume. I got the idea from the recent movie, "Annabelle" and I thought that it would be a great idea to make for my little girl to wear, especially because she is a little doll herself!
How To Instructions:
I actually did not use a pattern to make the dress. I took an old dress of my daughters and used that to create a pattern. I used an old crib shit as the material for the white dress. Then, I had an old red sleeve from a shirt of mine and used that to make the red accents on the dress and hair bows. I also added a little lace to the dress. She is always wearing a pair of store-bought white tights and a white onsie as well. I had an old dorothy wig from a past Halloween costume, so I gave it bangs and re-braided the hair. Lastly, I used eye shadow, eye liner and blush as makeup for her face.
In all, this costume did not cost me anything! I enjoyed making it for her and it was a great way to have a little spooky fun with my daughter during her first Halloween!