Inside Out Anger Costume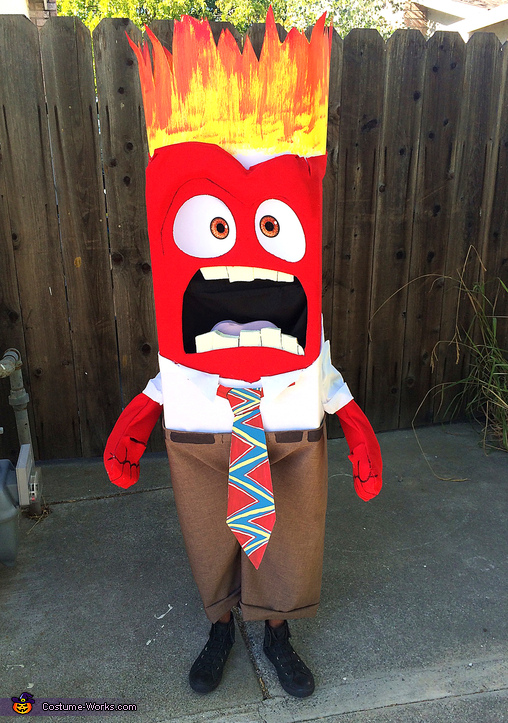 Inside Out Anger Costume
A word from Chris, the 'Anger from Inside Out' costume creator:
My 12-year-old daughter, Madalyn Riley, wanted to be Anger from Disney/Pixar's Inside Out. The challenge is she is skinny as a bean pole and Anger is short, stocky and built like a brick.
I started with a cardboard box base.
I cut some insulation foam to make the eyebrows,teeth and tongue.
Then the whole thing was wrapped with red felt like material.
I cut eye holes and covered them with a light weight screen and painted it black.
The arms were made from the same fabric as the body and since Anger always has his hands in a fist when he's made I filled in with pieces of foam to puff them out and cut a small slit so my daughter could stick her hands out.
The shirt was cut from an old bed sheet and the pants from some old fabric.
His belt was drew on with a sharpie and the tie as well as the fire were made of painted poster board.
Anger was a hit everywhere we went with little kids giving her hugs and everyone wanting to take pictures with her.
And though I couldn't see it, I know Madalyn was smiling from ear to ear in every one on of those photos.