An Autumn Regency Fairy Tale Costume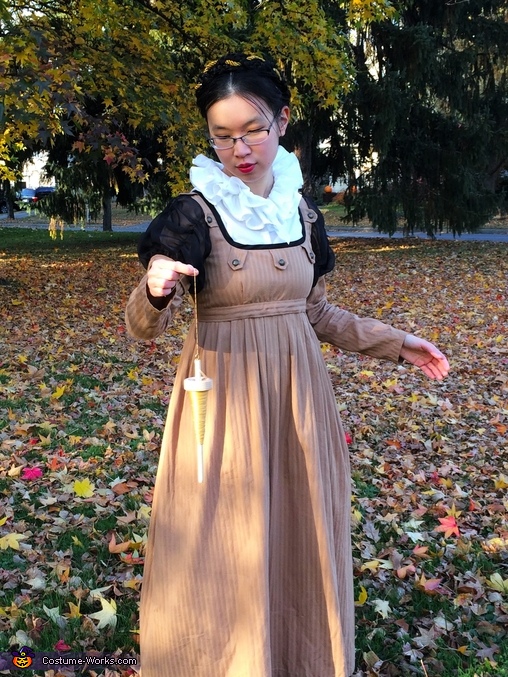 Spinning straw into gold on my drop spindle.
More views:
(click to enlarge)
A word from Anneliese, the 'An Autumn Regency Fairy Tale' costume creator:
As all tried-and-true fairy tales begin, once upon a time...an amateur seamstress wanted to make herself a Halloween costume. Inspired by the fashion of the Regency Era, as well as Paul O. Zelinsky's stunning illustrations in his retelling of the classic Grimm's fairy tale, Rumpelstiltskin, I decided on recreating the miller's daughter!

After spending hours dreaming over and looking at Regency extant garments, fashion plates and portraits, I set out to create my dress using a few yards of golden, striped cotton. After drafting the pattern, I set straight to work assembling the bodice, flat lining it with black cotton broadcloth. Making the sleeves was a process of trial and error: the long sleeve was simple and straightforward, while the decorative sleeve puff was a nightmare because polyester chiffon is a very unfriendly material.

The second part I tackled was the skirt: ripping two panels for a 90" circumference, hand stitching a 3" black cotton hem facing, and balancing the skirt with full gathers in the back and tiny pleats in the front. After trying several different trim designs, I finally settled on just sewing tabs around the edge, tacking pretty buttons on the centers and binding the edge with black cotton bias tape. Lastly, I securely whip stitched the skirt onto the inside of the bodice and, ta da, a finished Rumpelstiltskin Regency dress. I am quite pleased at the results, especially because a majority of the dress is hand sewn with period correct techniques!

No costume would be complete without accessories, so, first, I quickly stitched up a ruffly chemisette, based off of period examples I have seen. Made from plain white cotton, my chemisette pieces started out as those included in the Sense & Sensibility Regency Underthings Pattern...however, from there, I just made it up. Then, I decided to make a hairpiece; a band made from plastic boning and bias tape served as the base. A puff of velvet and a woven braid of fake hair and gold rope trim complete the look. As most of the materials came from the ever-growing stash and the drop spindle was a gift, the total cost for the project was only about $30 – success!

And she lived happily ever after...