Amish Gone Wild Couple's Costume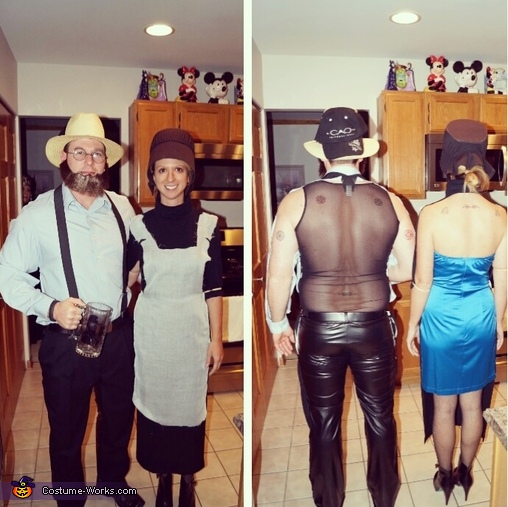 Amish Gone Wild!
A word from Jackie, the 'Amish Gone Wild' costume creator:
For the Amish man, I went to the local thrift store and bought a blue button down, straw hat, black dress pants, and found WOMEN's black faux leather pants. I cut the blue button down shirt literally down the seams on the side, but left the cuffs and collar for it to stay on. I also cut the black dress pants in half and sewed the front half on to the leather pants. I purchased the mesh tank on line and used permanent fabric tape to adhere the blue shirt front to the mesh tank. I also used the fabric tape to adhere the baseball cap to the straw hat. For the Amish woman, I used an old blue short dress and purchased the long black skirt and turtle neck at the thrift store. I cut the turtle neck and skirt in half and sewed them on to the front of the dress. I kept the turtle neck in tact to remain in place. I bought fish net tights and used fake tattoos on our backs. I bought the Amish bonnet on Ebay.