Alice in Wonderland Family Costume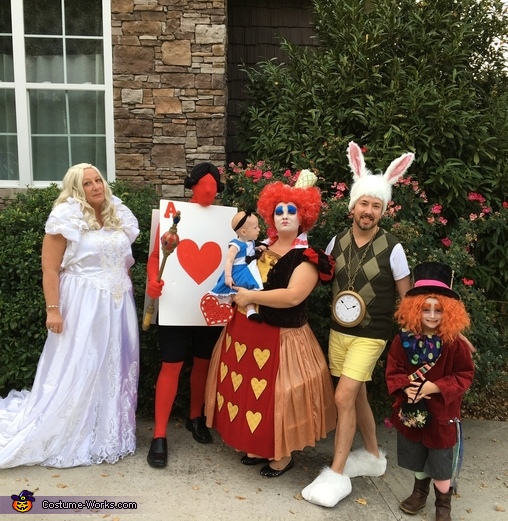 Alice & Her Crew
More views:
(click to enlarge)
A word from Jodie, the 'Alice in Wonderland' costume creator:
We chose to do a family theme of "Alice in Wonderland". Brynna, 9 months, is Alice. Big brother Brodie, 6 years, is Mad Hatter. Mom, Jodie, is Queen of Hearts. Dad, Johnny, is Ace of Hearts Guard. Nonnie, Bridgett, is the White Queen. Uncle Cody is the White Rabbit.

Everyone's costume was either made, or altered by Cody. Most items used were purchased from the thrift store. With the exception of the red morph suit, and wigs of course. Alice's dress was handmade (by TheGypsyGeek on Etsy) and her bow was made by Cody. The Hatter, the Queen of Hearts, and White Queen were made from head to toe from thrift store finds (wigs are the exception). The Ace of Hearts Guard was made from supplies from Dollar Tree (red morph suit is the exception). The White Rabbit was created from supplies we already had (with the exception of the hat and feet).

We had the BEST time this year. Our costumes were perfect, in our eyes anyways. Brynna has brought SO much joy into our lives, and we have her to thank for the costume idea!