Alice in Wonderland Costume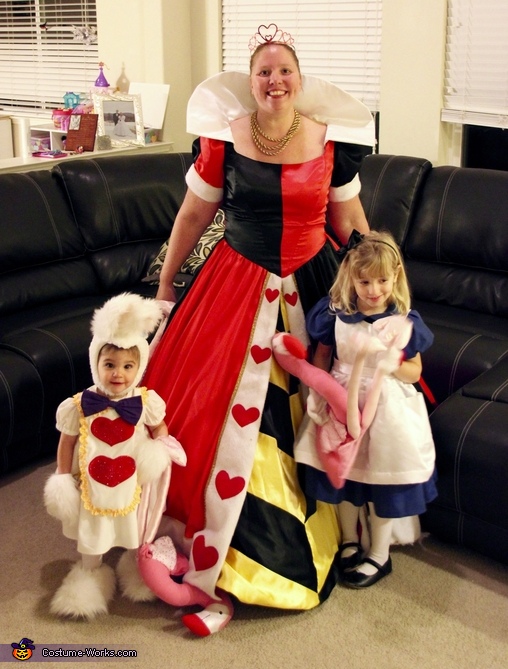 Do you play croquet?
More views:
(click to enlarge)
A word from Eileen, the 'Alice in Wonderland' costume creator:
Natalie (19M) The white rabbit from Alice in wonderland. My Aunt made everything but the tights. She hand painted the clock on the dress and even made furry feet, gloves, ears, and a bunny tail. The bow clips onto the front and to make it all easy for an active baby, everything snaps in the front. We saw the idea for the dress on line and thought it was just so cute and clever. It takes us a few months to decide on a costume idea for both my girls and I love themes. We picked this theme because we thought Natalie would make an adorable white rabbit; and she loves her costume!!!!

Eileen (Me) Queen of hearts. My mother made my costume. After we had picked the idea for the girls, I wanted to have some fun too. I also thought my kids would be so excited to see me dressed up with them. It was not easy finding the right ides for this. hear knew what we wanted but it was trying to get it all to come together. I did buy a slip to go under my 360 skirt. And then there is the top layer where the shirt sonf then the open skirt are. We wanted it to look like Disneys version as much as possible but we thought it needed some hearts as well. The collar is velcro so it's easy to get on and off. The skirt is very heavy so it would lay correctly on the hoop slip. I wanted to get a crown like the queen wore from the movie, but when I saw this one, I liked it better and I thought my daughters would enjoy it more after halloween. We all have flamingo treat bags, that my mom made us too.

Holly (4) as Alice in Wonderland. My aunt made her dress and the apron. There are pockets in the apron and the dress itself is very full. The headband I was going to make but I found that at Claire's so YAY I didn't have to make that and of course the shoes are store bought as well. The flamingo in the back of her is hand made by my mother. It's her candy bucket. It's legs are held together at the toe by a button so that she can carry it like a purse and hold it open to collect her treats. We picked this costume for her because of that blonde hair and her eyes always have that far away look like she's in another world like Alice. My aunt also loves Alice, so I knew that she would just love to make this costume for her as well. The flamingo treat bag was my moms idea because my mom loves flamingos (my children call her, 'Mingo MiMi') and in the Disney version of Alice, they play croquet with flamingos.