Alice in Wonderland Group Costume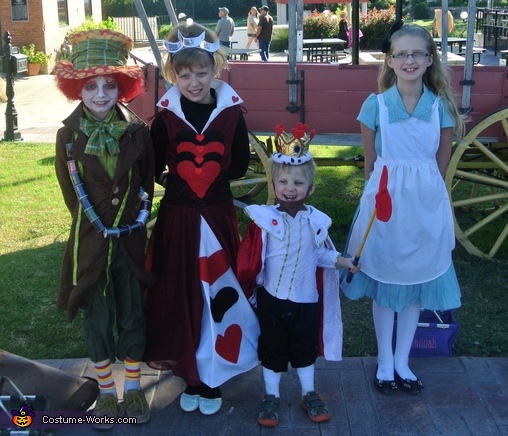 Tick or treating downtown
More views:
(click to enlarge)
A word from Jennifer, the 'Alice in Wonderland' costume creator:
I made the Alice costume from a ladies size large dress suit and a mans medium dress shirt I got at the Salvation Army for $0.78 each. I took the dress suit apart, cut off more than half, added some details and sewed it back together as a girls size 10. Then I made an apron out part of the men's dress shirt.
For the Queen of Hearts dress I found a ladies size medium knee length dress for $0.78 at the Salvation Army. I took it apart, cut up the front, added a piece of the men's dress shirt and some felt hearts to the revamped bodice ( I had to the extra room up top that my 9 year old thankfully doesn't need yet) and more felt hearts to the skirt. From the men's shirt I still had the collar left so that became the dresses fancy queen collar that I added hearts to. I made the crown out of an old headband and heart playing cards stapled together.
For King of hearts costume I pieced together old parts of costumes from my 8year olds dress up box. The crown I found at Goodwill and added felt hearts to the points. The scepter is an old child's golf club. I took off the head and added two felt hearts glued together. And a king must have a beard so I took brown felt, cut 5 curved points and glued them together with a tiny band of elastic to hold it on.
The Mad Hatter was the most fun to create! My 9 year old son and I went to the goodwill and found most all of the pieces. The brown coat was a child's size 5 cowboy duster. I cut off the shoulder piece and cut a slit up the back for coat tails then glued on wooden buttons. The green shirt is a ladies small that we rolled up over the too short coat sleeves. The pants, I think, were once part of a zombie costume. I cut the bottom third off to make them Capri length. The hat is an old one that we had. The socks were mine that I cut off the foot part and attached the tube part to my sons ankle socks. We went to the fabric store and found the orange and green plaid material on the clearance table. I got half a yard and made the bow tie and sash for the hat. Then my husband strung some thread spools for a sash and I draped a measuring tape around my sons shoulders. We added some white face paint, eyeshadow, eyebrows from an old clown wig. I had to cut off the top of the clown wig so it would fit in the hat.
Total cost for all 4 costumes was less than $20!