Despicable Me Agnes Costume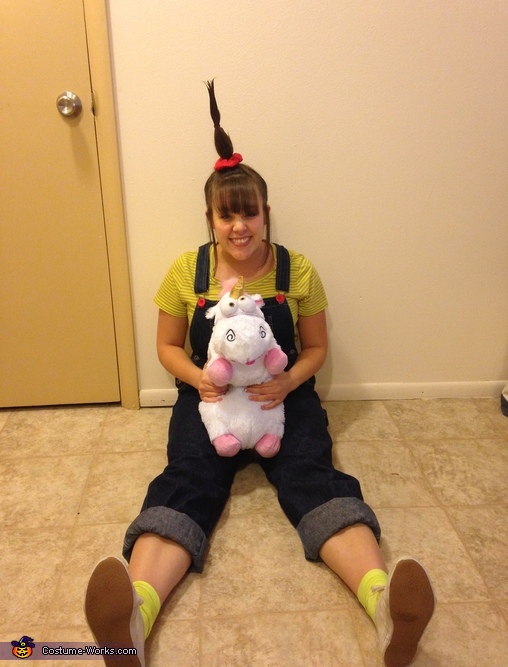 Agnes and her unicorn united, at long last!
More views:
(click to enlarge)
A word from Aubrey, the 'Agnes from Despicable Me' costume creator:
"It's so fluffy I'm gonna die!!!" Six of the most quotable words squealed by one of the cutest fictional kids ever to prance onto the big screen. If you have seen "Despicable Me", you will understand why Agnes is one of the best cartoon children ever created, and you won't think me crazy for wishing that when I have kids someday, I will have my own miniature Agnes for a daughter. All this being said, choosing to be Agnes for Halloween was QUITE the easy decision.

When it came to assembling the perfect outfit, this is how I went about it all: I got an authentic Despicable Me Unicorn offline (TOTALLY worth the money), a pair of overalls after countless hours of searching (actually over 6 hours, and Ragstock ended up being my saving grace), red buttons for my overalls from a craft store, a red scrunchie from Target, a perfect replica of her yellow shirt with brown stripes from Goodwill, and I cut the bottoms off a pair of yellow leggings I already owned to sue as her yellow socks and donned some white shoes that I also owned already.

As for the hair, I used copious amounts of hairspray, gel, bobbypins, as well as a tube of eyeliner underneath it all to achieve the perfect upright, Agnes-coiffed look. I also pulled out two sections of hair above my ears to have those little locks fall down just like her. The outfit, the hair, and walking around with my unicorn (as well as occasionally proclaiming "It's so fluffy I'm gonna die!!!") resulted in people LOVING my costume. It gained many chuckles, pictures, smiles, and a general sense of joy.

Overall, this is one of my favorite Halloween costumes I have ever done. I felt that it was original but also relatable/recognizable, the replication was spot-on, the dedication to my character was thorough, and it was FUN!!! We all have a 5-year old child in our hearts, waiting to burst forth with silly songs, untainted laughter, and a sense of imagination as big as the expanse of the cosmos. Halloween was a chance for me to access that even more than I normally do (and I do it quite a lot, no shame). I hope that I have brought some uplifting joy (and maybe even some giggles) to your day, and that you go out and do something wildly silly without any inhibitions! Go release your inner Agnes for a day, and bathe in all the unicorn-goodness that is waiting for you in the world.