Abducted by Alien Costume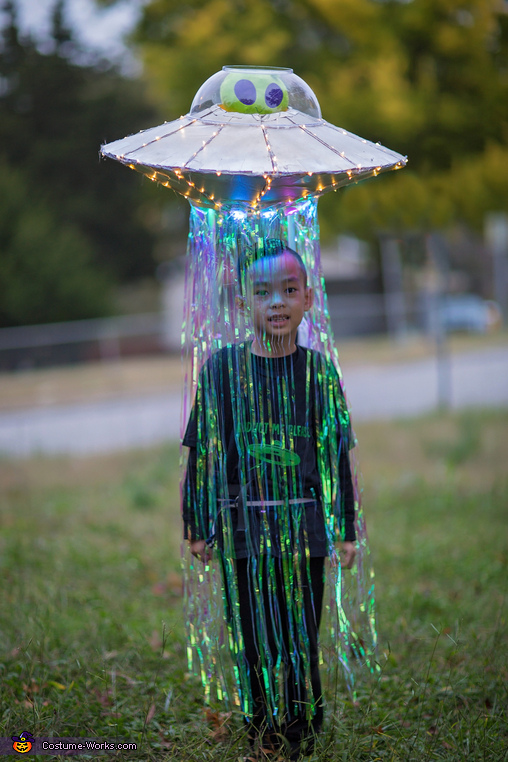 Abduct me, please!
More views:
(click to enlarge)
A word from Duong, the 'Abducted by Alien' costume creator:
Milo started having an interested in aliens and Area 51 a few months ago while watching videos on Youtube. I was looking through Pinterest for costume ideas and saw a cool handmade UFO costume. I show it to him and he excitedly told me that is what he wanted to be for Halloween, "abducted by alien."
I used 8 pieces of foam boards from Dollar General to make the body of the UFO. I placed 4 foam boards together and drew a circle and divided each part of the foam board into three sections, making 12 pieces. I did that twice for the top and bottom of the UFO. I cut each pieces out and took out one piece from the top and bottom. I then used duct tape to tape the 11 pieces together. I did that twice for the top and bottom. Then I cut a big hole for where the alien will sit for the top and bottom. After that, I spray painted the UFO body with spray paint (in gold then in silver.) I used big, clear, punch bowl for the top of the UFO. I hot glued the alien to the top of the punch bowl and then hot glued the punch bowl to the UFO. After all that is done, I hot glued on the fairy lights to the top and bottom of the UFO. I then hot glued circular lights to the bottom of the UFO. Lastly, I glued on iridescent streamers around the bottom of the UFO to make them look like rays. To hold up the UFO, I used two strong PVC pipes and made holes to the UFO and spray foamed it in place. I then pray foamed the other ends to a box. I put the box into his book bag so he can wear it and hold it up. To complete the look, I bought Milo a T-shirt that says "Abduct, me, please!."
This costume was a hit at Trunk-or-treats. We won "Best Costume!" Milo was super excited about it. All through the night, people kept asking to take pictures of the costume and complimenting. Milo was super proud of his bright costume.