A Christmas Story Leg Lamp & Box Couple's Costume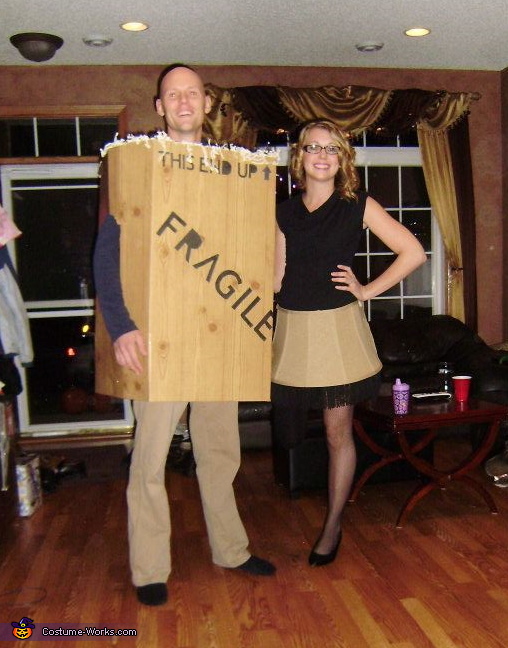 Leg Lamp and Box from A Christmas Story
More views:
(click to enlarge)
A word from Jodi, the 'A Christmas Story Leg Lamp & Box' costume creator:
This is my husband and I at a friend's Halloween party in our homemade A Christmas Story costumes.
For the lamp, we bought the biggest lampshade we could find in the right color and used wire cutters and scissors to cut a straight line up the back. Because it was still too small we had to bend the wire apart a bit so that I could slide it around my waist. I am not a sewer so to patch the exposed 5-6 inch strip in the back, I used a strip of fabric and velcroed (the kind that is sticky on one side) it into place. The edges were unfinished looking but because the fabric was so close to matching the shade, it really didn't look bad at all in the dim indoor lighting. I used some more sticky velcro to attach the fringe to the inside of the shade, and got 5 small battery-operated tap-on lights and velcroed them around the inside of the shade to turn the lamp "on." A pair of fishnets, a pair of black leggings with one leg cut off above the knee, and black pumps completed the look. The point of the black leggings was so that one leg was somewhat "hidden" while the other one has the fishnet and is part of the lamp. I bent the leg with the legging on up behind me for pictures and judging during the costume contest we attended. In the first picture, I happen to be standing just right in front of a black piece of furniture so that you really can't see my legging leg at all! (Totally by accident!)
For the box, we took a large cardboard box and cut out arm-holes. Then we covered the box in wood-patterned contact paper. We printed the letters and cut them out of paper and glued them onto the box. Since we couldn't find quite the right font, I colored in the letters to make it look more like the lettering from the movie. The finishing touch was to add some neutral, cream colored gift wrap confetti around the top edge of the box to look like packing material.