A Family of Planets Costume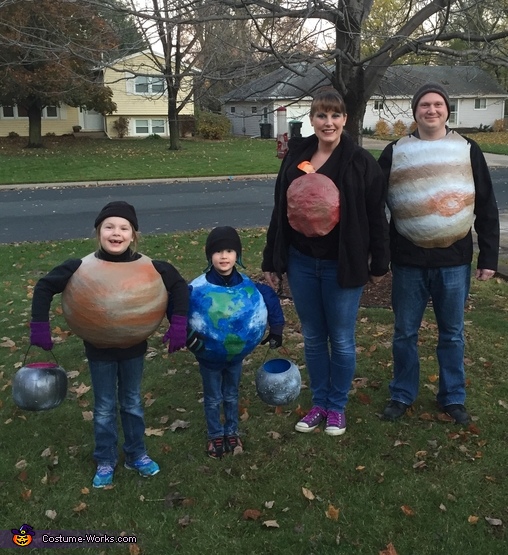 Mercury, Venus, Earth, the Moon, Mars, and Jupiter
More views:
(click to enlarge)
A word from Christine, the 'A Family of Planets' costume creator:
My kids love space. I'm not even sure when we decided we wanted to do planets for our costume in 2015. I was pregnant, and due just before Halloween, and I didn't think sewing costumes would be easy with a big belly. I also wanted a costume that I could wear while carrying a newborn in a baby wrap. At one point my oldest son said he wanted to be Earth and we took it from there. We decided that my daughter would be Venus and my husband would be Jupiter. Eventually I settled on Mars. I decided to use plastic pumpkins as Mercury and the moon. So, together we had Mercury, Venus, Earth, Moon, Mars and Jupiter.
I started on Earth first, knowing it would be the most difficult to paint. I used a small yoga/Pilates/balance ball and I papier-mâchéd several layers until it was solid. I cut out arm holes and a head hole. I lined the inside with black duct tape. I printed off a map to the scale of my planet, and I cut stencils for the land masses and spray painted the continents. I added all the details with spray paint, using brushes and sponges.
Mars was done the same way, but the painting was less meticulous.
Then I used some caulk to fill in the faces and lines on the plastic pumpkins. I used spray paint and some spray popcorn ceiling stuff to make the Moon. And metallic spray paint for Mercury.
I made Jupiter next, but it would have taken way too long to make a full size ball, so I used an extra large exercise ball, but I only papier-mâchéd half of it. I added ties so that my husband could wear it.
I made Mars using just a small portion of the large exercise ball. I needed to be able to remove the costume easily and I didn't want it to cover the baby.
It was fun to have a year of crafty costumes, instead of sewn costumes. Our costumes were so well received that people remembered us when we came trick-or treating in 2016!