A day at the Beach Costume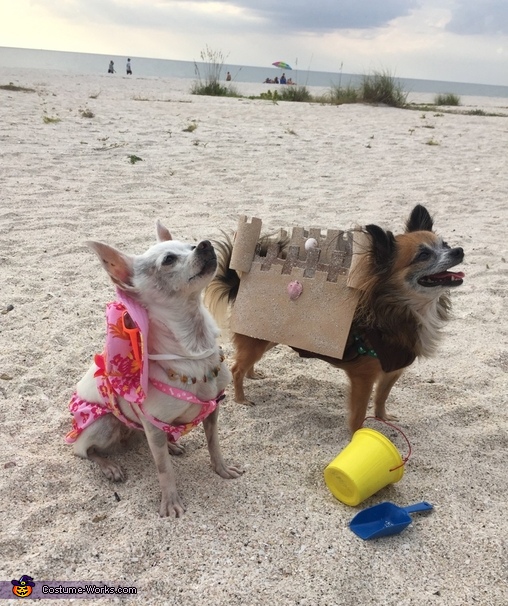 A day at the beach
More views:
(click to enlarge)
A word from Sasha, the 'A day at the Beach' costume creator:
Noodle is dressed in her bikini for a day at the beach. She took her pail and shovel to build a sand castle out of Twinkie Lee. We live in Florida and going to the beach is the most fun activity around. I like to build sand castles so I thought it would be funny to build one that had furry little legs running under it. Twinkie Lee weighs only 5 pounds so I had to keep the weight as light as possible. I used strips of cardboard to form the basic outline of the castle and I used paper towel tubes to get the round turret structure. Then I took foam sheets and hot glued them over the cardboard outline to fill out the design. I sprayed glue and then lightly dusted sand over the whole castle, adding shells onto the outside for highlights.
Noodle's bikini outfit was purchased online but I made the pail and shovel, because she had to use something to build the castle! I took an empty yogurt container and covered it in layers of gesso and then yellow paint. I used colorful red armature wire for the handle. The shovel is a spice spoon from the dollar store, covered in gesso and blue paint. Both were then sealed with a gloss sealer for a shiny look.
The dogs love getting dressed up because they get so much attention and laughter. Many people stop for pictures so we use the opportunity to talk to them about how wonderful rescue dogs are and what great pets they make. People can clearly see how social they are and that not all chihuahuas are mean. It is an excellent way to talk about animal rescue to random people.