2006 Pet Halloween Costume Contest
Because of the small amount of entries in this category it was decided there should be only one winner (rather than having 1st through 3rd place and leaving only ONE pet OUT).
I hope you ALL had fun and I pray you know that you are ALL winners... just for the fact that you all have beautiful pets who dress very nicely. You (and they) are blessed.
The winner that was decided upon by the judges IS:

The Wedding Party
Congratulations Coco, Bisquit, and Buddy
ALSO Congratulations to Helen in Va. You have a VERY cute crew of pups!

Prizes, in the form of GOOD Pet Treats, have been sent out to all of the Contestants in this Category.
Thank you EVERYONE who participated. Please come back and try again NEXT year. Maybe by then I can COUNT on a "PET" costume Contest and will be better prepared to handle this category. :-)
Thanks for your patience and understanding.
---

Here are the entries in the order I recieved them:

Mattie as Ballerina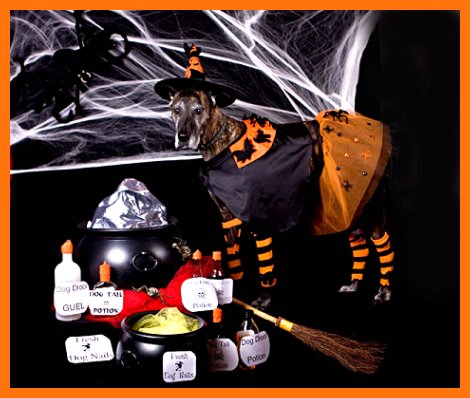 Mattie. Costume Idea by Matties owner Tobi.
Costume made by Tobi's Grandmother.

Thanks to Tobi and her Grandmother for the GREAT Pictures
(beautiful Pup too :-)

This is Tegan as a Graceful Ballerina, as sent in by Paul from Texas.

Thanks to Pauls wife for dressing Tegan, a Chi-Poodle, up so darn CUTE! :-)

Here is Shannon, from MN, and her pup, "Thunder" as a Pile of Autumn Leaves.

Thanks for the entry Shannon!

Now for a Wedding Party:
The couple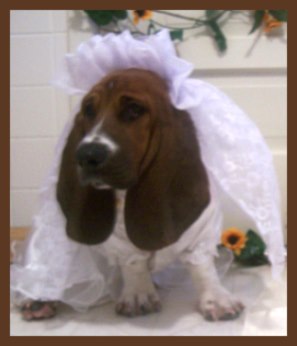 The Bride, Coco

The Groom, Biscuit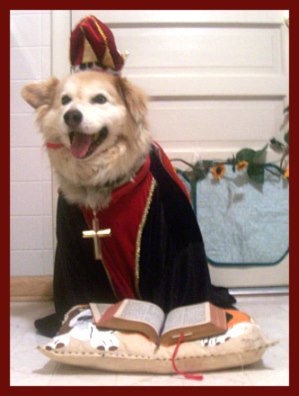 Pope Buddy I

Whew! Weddings DO effect some folks that way! Yawn...:-)

Thank you Helen in Va. for the adorable Wedding Pictures!

Back to 2006 Halloween Costume Contest