ZOLTAR
Fortune Telling Booth from the Movie

Here is an example of dedication to Costume Creating.
Costume Creator SUPREME Jonathan Gleich has been In-it-to-WIN-It for a few years now (as you'll see in photos further down Ü). In fact, this costume just brought him a First Place Win in this years (2009) Coney Island Mermaid Day Parade.
Here is a Video of " Zoltar on Parade " at youtube
url : https://www.youtube.com/watch?v=aI1twxnLV5s

He is a regular at most Costume Parades, Contests, and other Costume Affairs...mostly in, and around, the New York area. Did I mention that Jonathan is in it for the FUN also? because THAT he definately IS. His love of Costuming and his delightful personality make him just PERFECT to fit into any role his Costume demands of him. Check out the man in this Fortune Telling Booth....is there ANY DOUBT that this man is, in fact, the acclaimed ZOLTAR?
IN FACT! Just this morning (April 30th, 2010) I recieved an
UPDATE
that Jonathan's Zoltar is alive and well and was interviewed at the Tribeca Film Festival. Here is the link to the interview :
Zoltar at Tribeca
(or
https://vimeo.com/11223068 )
Go check it OUT! :-)
Above, In-it-to-win-it. Ü
Jonathan has a passion for Costumes, as well as talent and plain ole determination in his Costume Building. He came across a great idea in using a segway as a base for this Costume, which, I might add, really takes the weight off... if one needs to travel very far carrying a Fortune Telling Booth Costume finely equipped with all of it's bells and whistles as this one is. Ü


Zoltar always takes time to amuse a child or 3 along the way.


Aside from this little Showcase Page that I have for Jonathan...You can find out plenty more about this Zoltar Costume at Jonathan's Web Site. You can even watch a video of the building of Zoltar IN PROGRESS! Or..if you are lucky enough to be in his area ...find out where you can actually see Zoltar in person on up-coming dates. That and more at Zoltar Speaks...check it out! Ü
So many Fans..so little time.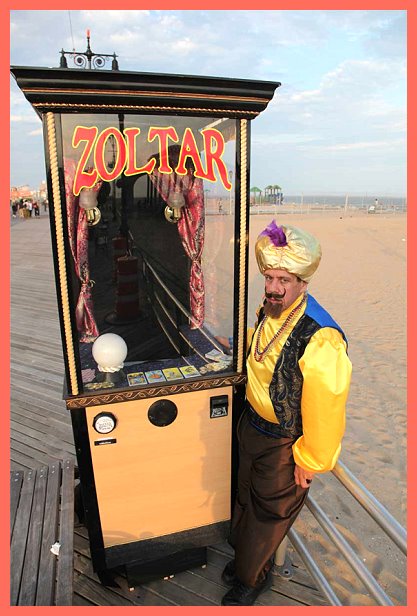 Zoltar takes a break on the Boardwalk.
A good chance for us to peek inside at his countertop.....
and see just how much attention is paid to detail in this Costume.
I see Gold Tokens, Tarot Cards, of COURSE Zoltar has a Crystal Ball,
and I also note some hard, cold, CASH!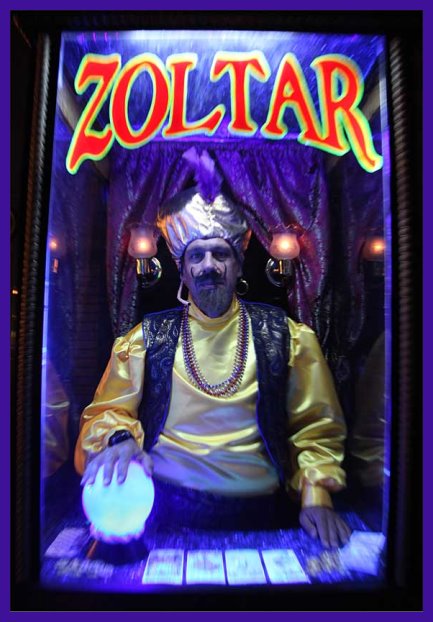 Is it nap-time yet?
All of the lights work in Zoltars Booth .
His Crystal Ball lights up too.
Zoltar can speak to his visitors through a Microphone and Speakers....
and there is background ZOLTAR Music to set the mood.
On October 24th, 2009 ...Zoltar hit the NEWS! Below is the Newsclip:
~~~~~~~~~~~~~~~~~~~~~~~~~
Staten Island Zoo's Spooktacular
October 24, 2009, 10:24PM

Staten Island Advance/Bill Lyons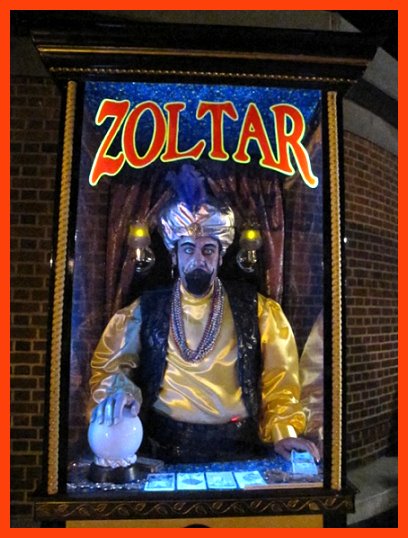 Gaze into those eyes.....
Below, Zoltar...or is this Jonathan?...having an
"Out of Booth Experience". hehehehe Ü
Actually...Zoltar is having a well-deserved break. Ü

~~~~~~~~~~~~~~~~~~~~~~~~~~~~~~
Jonathan won 2nd Place at
HalloweenAdventure.com for the Video below.

2nd ) $100
Below are photos of Zoltar hanging around the set of Regis and Kelly..
(he wasn't chosen to win at this one
BUT! he still had a BLAST at the studios)
https://www.flickr.com/photos/28198273@N05/sets/72157622595517893/show/
(This traveling Fortune Telling Booth really gets around YES?? Ü)
~~~~~~~~~~~~~~~~~~~~~~~~
I hope that you have enjoyed this view of Zoltar the Fortune Teller
(and his Booth Ü).
Please remember to check it out at Jonathan's Web site ~~~~~~~~~~~~~~~~~
but wait..there's more! Ü
Now I'd like to show you just a few of the Costumes that Jonathan has created before this one.
(they are pretty darn great also Ü)
2008
Pirate
(on a segway)
Well shiver me whatsitz sailor.....
that Parrot looks darn near REAL!
The Parrot is "animatronic" and many
Parade watchers thought it was real.
Check out the Parrot on YouTube
at link below. COOL Video!
Squawkers McCaw Robot Parrot
A full view (below)
ARG!...He's a handsome ole salt eh?
I love the Maiden on the front(bow?) of his ship..
could it be....a Barbie? Ü
This man thinks of everything in his costume creations.
~~~~~~~~~~~~~~~~~~
2007
Mickey Mouse
Putting his segway to good use again (below)
Jonathan floats this inflatable 8' Micky Mouse(with fangs!)
~~~~~~~~~~~~~~~~~~
2006
Dementor
Here is Jonathan as Dementor, of Harry Potter fame.
Another Costume in which the segway was used..
..giving an effect that Dementor was floating
....surrounded by a cloud of fog Ü
~~~~~~~~~~~~~~~
2005
Astronaut/Spaceman
Jonathan as a futuristic Spaceman/Astronaut.
His spaceage segway appears to have all of the lights,
bells, and whistles a man of the future could need.
~~~~~~~~~~~~~~~
2004
Cyborg
...and why should a cyborg have to walk? Ü.
Jonathan is a great guy who deserves every ounce of recognition he gets.....
for the joy he brings with his Costume Creations.
If you'd like to view more pictures of Jonathan and his creations
you can cut and paste the below URLs to your browser to go to Flickr.
https://www.flickr.com/search/?q=segway+pirate&ss=2&mt=photos
https://www.flickr.com/search/?ss=2&mt
=photos&w=all&q=segway+zoltar&m=text
~~~~~~~~
I hope to be adding many more to this list of Jonathans Costumes...
each time he has an excuse to make one. Ü
From the Bottom of My Heart,
Thanx Jonathan Ü