2013 Halloween Costume Contest launched!
Submit your Halloween costume photo and WIN Prize!!!
2010
Halloween
Costume Contest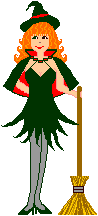 It was a STRANGE year,
and I truely appreciate everyones
patience and understanding regarding
the overload of entries for the Contest.
I promise to be better prepared
next year :-/
:-)

That said...
Here is a message from the JUDGES!


And the Winners
ARE:





Congratulations
WINNERS!!
You are all AWESOME!
Prize money will be sent via US Mail around Dec.1st
IF you see that you are a winner and you have not, yet, sent me your Snail Mail address, please do so, so that I can send you your winnings.

To ALL of you who did such amazing jobs on your Costumes,
but who did not win a prize...I'd just like to say THANX for joining us and sharing your cool creations with US and the world. I happen to adore every costume here!
~~~~~~~~~
2010 Contest
below
If you have an entry, please take a quick peek HERE:
Contestants~~> Important things to know.


This years Contestants are:
View all the 2010 Halloween Costume Contest entries

************


Contestant 1
~~

Papa Smurf & Smurfette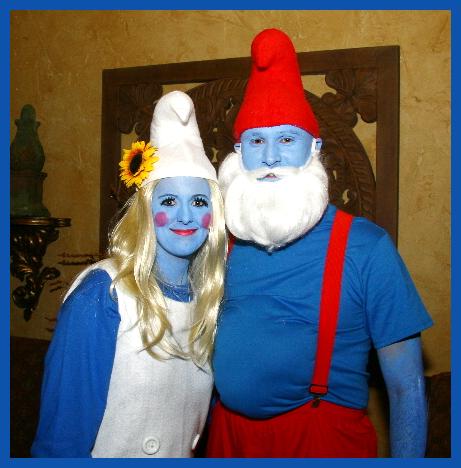 Our first entry is a fine looking Papa Smurf
accompanied by a cute lil Smurfette.
Sent in by Kelli in Texarkana ,TX


Thanks for starting out our Contest this year Kelli!
~~~~~~~~~~~~~~~~~~~~~~~~
Contestant 2
~ ~

Mr. Potato Head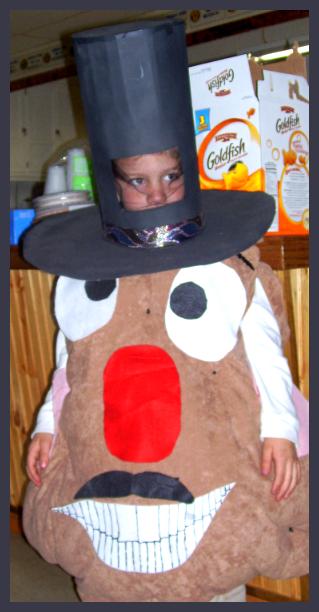 This is Eric as Mr. Potato Head.
Eric's costume, created by Mom, Donna,
is, what one might today call " interactive."


This Potato Head comes with 2-3 changable
face parts in a secret pocket and
held on with Velcro for an easy switch.


Thanks Donna and Eric!
Super Creative Costume!

Please Support Autism Research.
~~~~~~~~~~~~~~~~

Contestant 3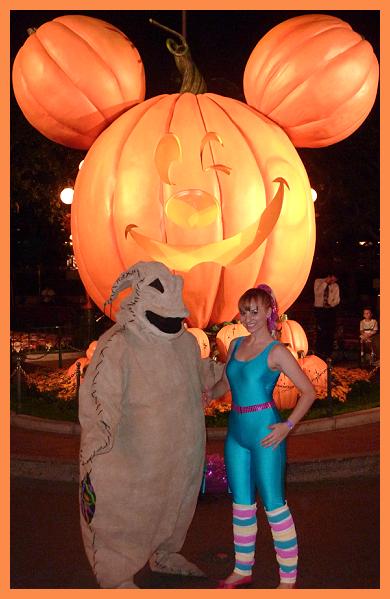 This is Kenneth as Oogie Boogie from
"The Nightmare Before Christmas"
Looks like they may be at DISNEYLAND!?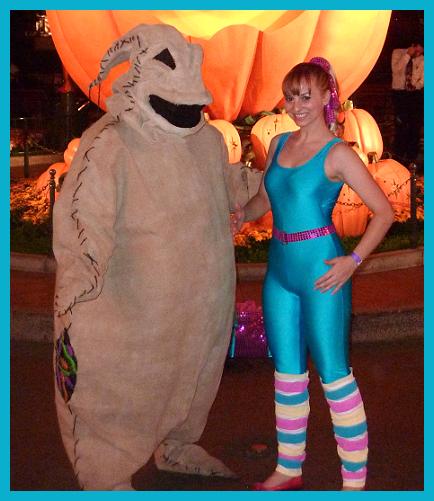 A closer look :-)
Oogie Boogie is accompanied by his
girlfriend, Tammy, as "Great Shape Barbie"
from "Toy Story 3"


Thank you for the entries!
GREAT Costumes!
~~~~~~~~~~~~~~~~
Contestant 4
~~

Anti-Form Sora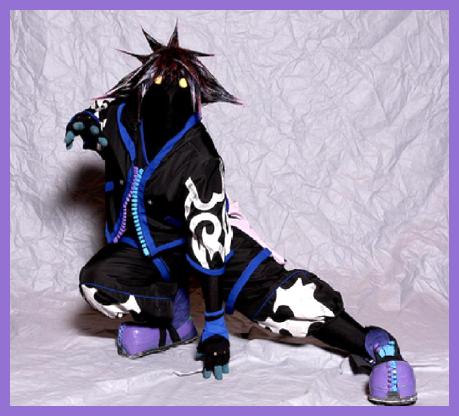 Anti-Form Sora from the Disney/Square Enix Game
Kingdom Hearts 2. Costume features glowing eyes,
markings and hair that glow under blacklight/uv,
and a small smoke machine at the wrist.
Costume creator Kate says it took her 7 months and
$1000. to put this beautiful Costume together.
You sure did well though Kate!

~~~~~~~~~~~~~~~~
Contestant 5
~~
Jack Skellington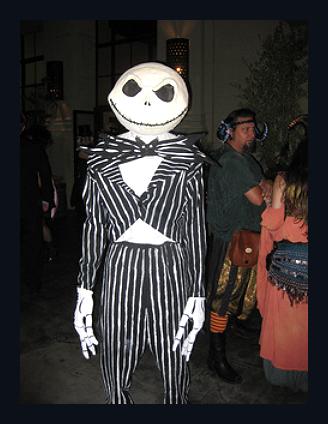 Here is Jack Skellington,
the King of Halloween Town,
of "Nightmare Before Christmas" fame.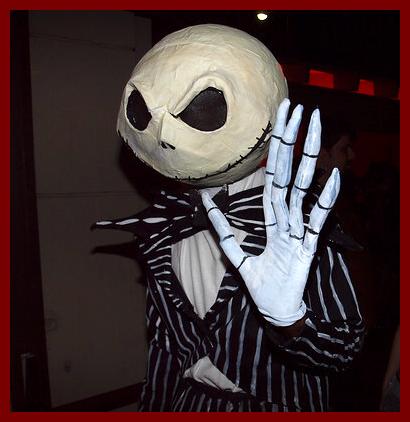 Jack is played by Raheem,
and the costumes maker is Raheem's
fiance, Kimberly.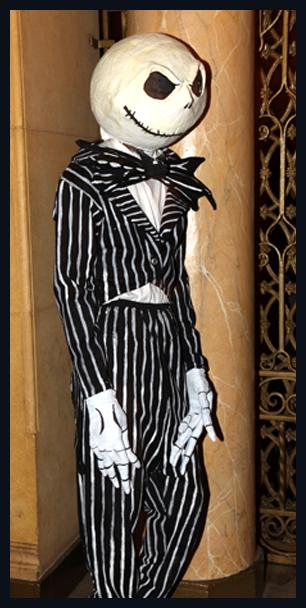 Raheem, has sent me photos of
the costume pieces and even a few instructions...
THUS! This is one of the costumes that will
be put into the "Homemade Costumes" section
after the Contest.

Good Going Raheem and Kimberly!

~~~~~~~~~~~~~
Contestant 6
~~


Freddy Krueger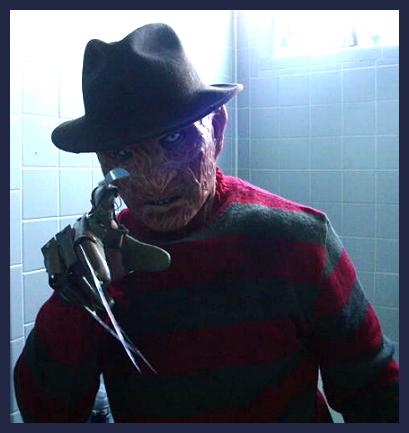 Here's everybody's favorite
Nightmare on Elm Street!
FREDDY! EGADS!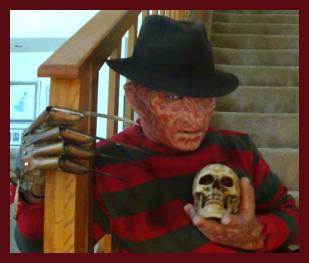 This die-hard Freddy Krueger fan
collected props and costume/mask pieces
from several independant stores and
designers in order to come up with
this Movie Quality Costume for us to enjoy.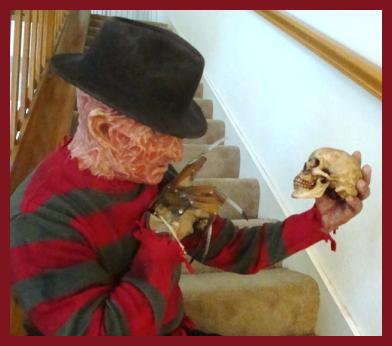 A really REALLY scary and Movie worthy Freddy!
Thank you for your entry and GOOD LUCK!
~~~~~~~~~~~~~~

Contestant 7
~~

KISS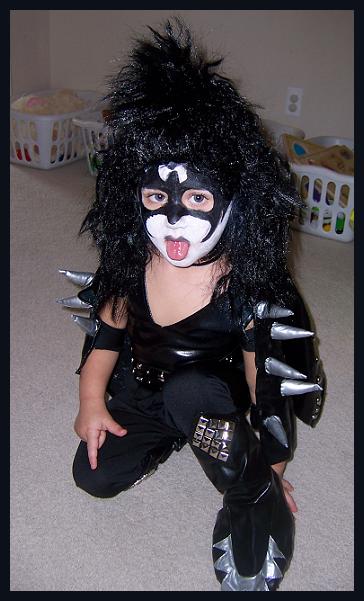 Tina sent in this costume entry of her
3 yr. old, Niko, dressed up
as a KISS Band member.


Thanks Tina and Niko!
Niko you look TOO COOL!


~~~~~~~~~
Contestant 8
~~

Organ Grinder
and his Monkey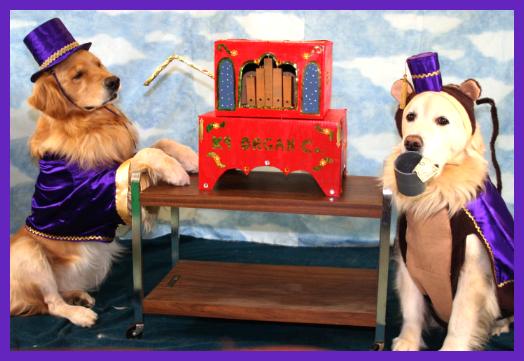 This is an entry from 2 sisters, Bonnie and Beth.
The Costumed pups are Aladdin and Phoenix.
Phoenix is dressed as an Organ Grinder,
pushing his homemade organ on a cart.
Aladdin is the organ grinders monkey..
collecting tips in the tin cup
that he holds in his mouth.


Ladies, Thanks for sharing your beautiful pups with us.


~~~~~~~~~~~~~~~~~~~
Contestant 9
~~
Wonder Woman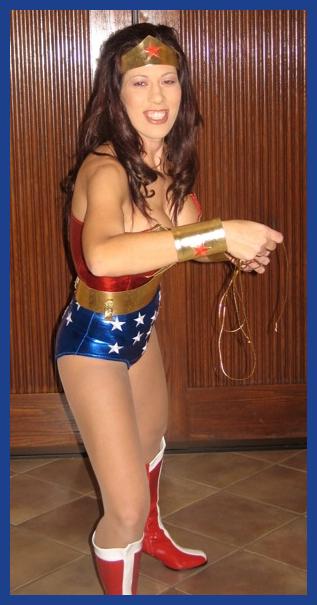 This is Diana as
Wonder Woman


Wonder Woman with Zoe
who seems to be
King Banana


Great Costumes !
Thanks Diana.


~~~~~~~~~~~~~~
Contestant 10
~~

Superbowl Commercial
Characters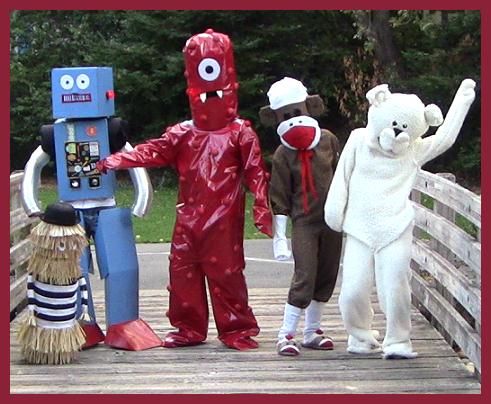 Here are some hand made, by Jody,
Kia Superbowl Commercial Costumes.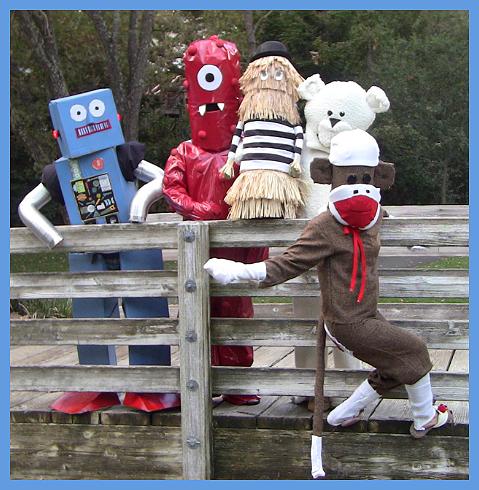 Playful little guys aren't they? :-)

WOW! Great attention to detail Jody!
The Sock Monkey is the COOLEST! :-)

~~~~~~~~~~~~~~~
Contestant 11
~~

Capn' Jack Sparrow
This is Anthony as Capn' Jack Sparrow
of "Pirates of the Carribean".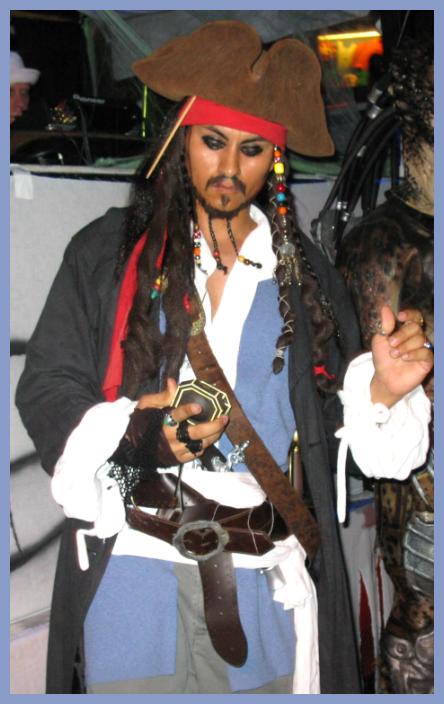 Anthony is a Johnny Depp look-alike
if ever I saw one AND it is said that..
When Anthony is in Capn'Jack character
he carries off perfect mannerisms of the
swaggerinng, drunken, but lovable, pirate.


PERFECT Costume for you Anthony! Perfect!
Thanks for being here!
~~~~~~~~~~~~~~

Contestant 12
~~
The Demon
This is Joe, as "The Demon"
aka... Gene Simmons of the band KISS.
Joe says that it took the whole summer to complete
this costume ....
Materials were around $100.00 total.
Great work Joe!
Your instructions (amongst others)
will be posted in my "Homemade Costume"
section .. sometime SOON (I hope!:-) after
Halloween.
~~~~~~~~~~~~~~~~~~
Contestant 13
~~

Zombies!
(at Disney World?)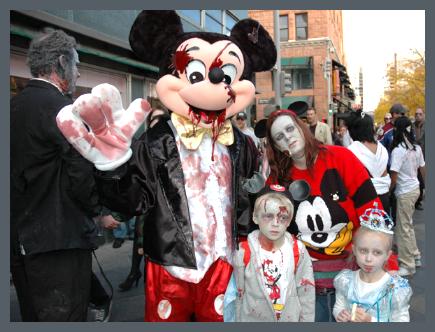 Meet a lovely family who became infected as Zombies
while on Holiday at Disney World.
Brack as Mickey, and Mom, Beth.
Up front and looking hungry
we have son Liam, and daughter Aida.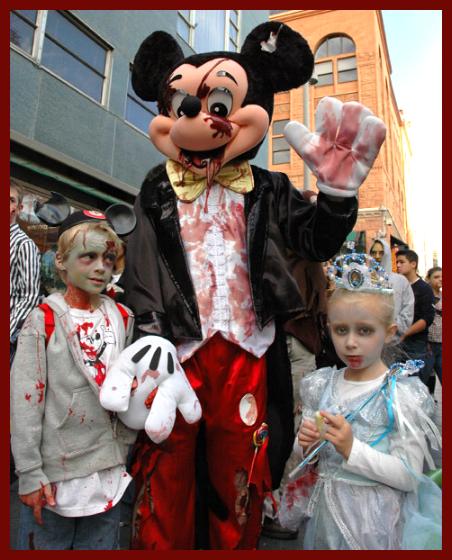 Poor Micky Mouse was attacked
while greeting the sweet little children..
..right after they had devoured their Mom.



Love the concept Brack...
Sometimes "twisted" is GOOD! :-)

~~~~~~~~~~~~~~~~~~
Contestants 14
~~

Witch Doctor
&
Voodoo Doll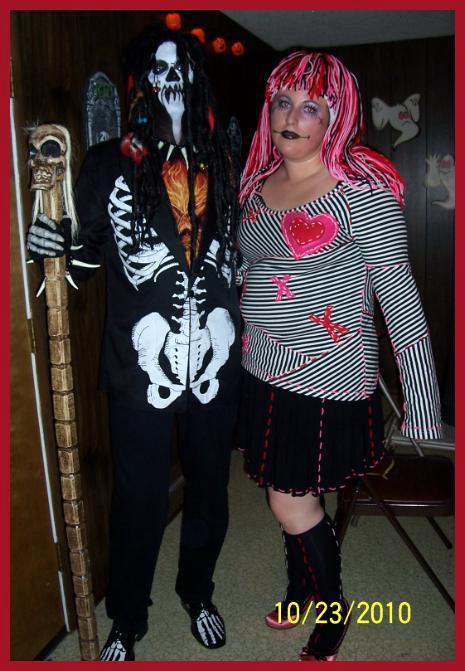 The Doctor is IN! :-)
Meet a charming Witch Doctor
and his very own VooDoo Doll.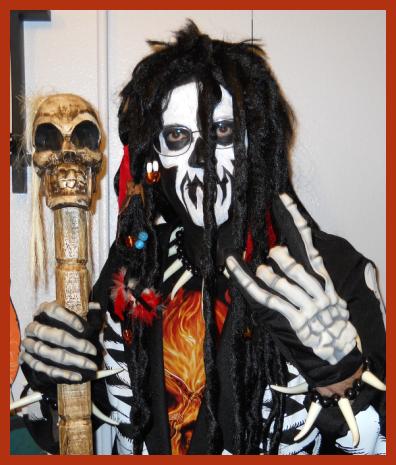 Richard is the Doctor...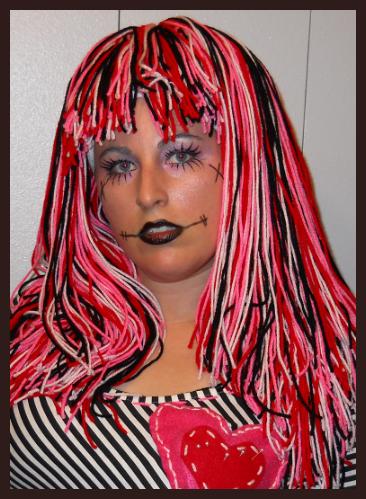 And Tara is the Doll :-)


Great Make-up jobs you guys!
Thanks for the entries and Good Luck!!
~~~~~~~~~~~~~~~~~
Contestant 15
~~

Winged Demon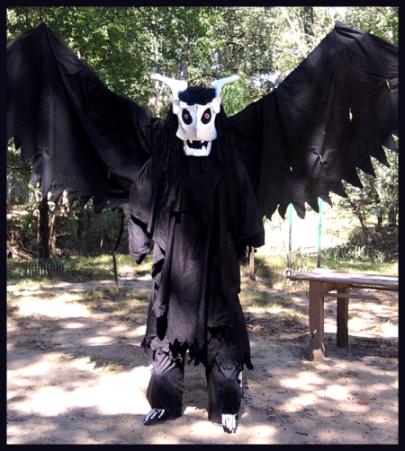 This is Steve as a 7 ft. Winged Demon of his own making.
The huge wings open and close
and the "skull" is actually made of the hipbone of a cow..
with a jawbone he molded and added for effect.
Steve used glowing red lights for eyes.
Steve, I would NOT want to
run into your Demon in the woods at night :-)
~~~~~~~~~~~~~~~~~
Contestant 16
~~

Wild Things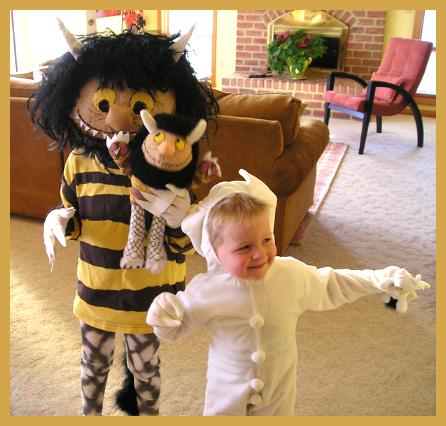 Mom, Beth, is entering her sons Max, as "Max",
and Alex, as a "Wild Thing"... from the book/movie
"Where the Wild Things Are".
Just as cute as can be Beth!
Thanks!



~~~~~~~~~~~~~
Sorry for the delay in posting of entries for the contest...
and that I had to close down entries earlier than usual.
You can be sure that NEXT YEAR I WILL be better prepared :-)
Thank you ALL for your patience!
That said:
With a LOT of help from a particularly wonderful webmaster
we have managed to post all of the entries I received.
Please forgive that I did not have the time to give each
the personal attention I would have liked to...
But you ARE here..where we can all enjoy
what you have come up with for a Costume(s) this year :-).
AND a chance to win the CASH of course!
Please continue on to MORE Costume Entries::
Halloween Costume Contest 2010
Page 2
Page 3
Page 4
Page 5
~~~~~~~~~~~~~~

2010 JUDGES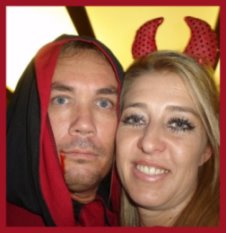 Randy and Jasmine
aka Dad and Mom
to the Judges below: Ü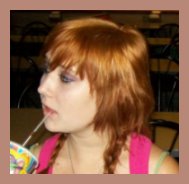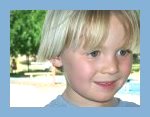 Sierah Tristen
The judges are....
My Daughter and her Hubby,
and 2 of my Grandchildren .
One is a Teenager and one a Child.
I think that the age spread makes for great results
in the judging (Although they face some very hard decisions:-)
They have done the judging for the past 2 years
and they have done JUST GREAT.
(MY HUMBLE OPINION :-)