2006 Halloween Costume Contest
I was told by the judges that it was a difficult decision (as I knew it would be :-) because all of the costumes in this years contest were so great. In my eyes you are ALL winners and I hope you know it to be true in your hearts also.
And the Winners Are:
1st place: $100.00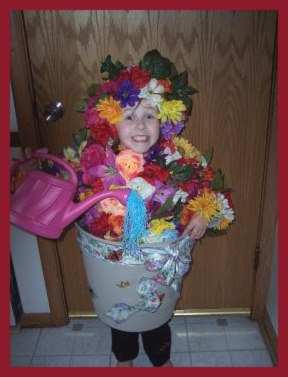 Rachel, 4, from MN is our 1st place winner.
Congratulations to Rachel and Mom, Shannon.

2nd place: $50.00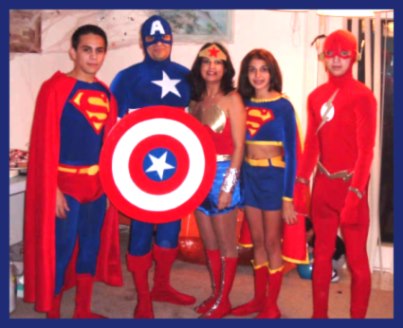 The Alvarado Family from CA are our 2nd place winners.
Congratulations Tony and Sylvia, and kids, Michael, Kerinda, and Ricky.
GOOD WORK Capn' America!

3rd place: $25.00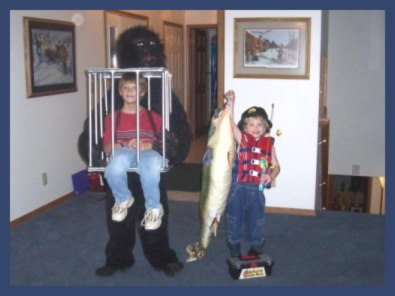 3rd place goes to the Gorilla carrying Nate in a cage. :-)
Congratulations to Nate and Mom, Becky from MN

Prize money has been sent through the US Postal Service on November 21, 2006.
A little something, a small token, has been sent out to ALL of the fine people participating in this years contest. I especially want the children to know that they are winners simply by Dressing-UP for the Occasion.
My thanks to ALL who entered my Contest. Please come back NEXT Halloween... and bring your friends!
Please note: by popular request I had a Halloween Costume Contest for PETS also.
---
and... The Contestants Are: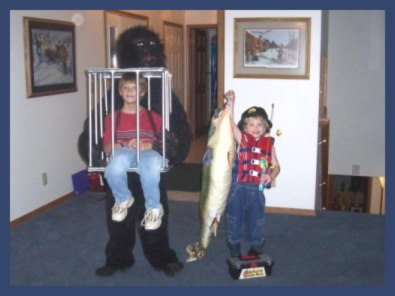 Nate, held captive by BIG Gorilla & John, with one BIG FISH!
sent in by Mom, Becky S. in Minnesota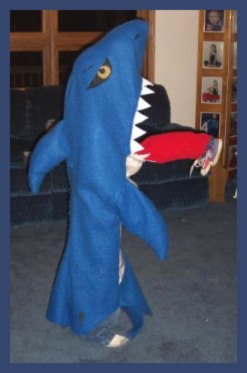 Everybody out of the pool! SHARK!
sent in by Becky S. in Minnesota
Thank you Becky!!!!

Zachary in a Plane created by his Dad, Bob

Joshua in a Tank created by his Dad, Bob
Thank you Bob!

Below is a Wizard of OZ family from Iowa
Here is Kailey as Dorothy. Check out those Ruby Slippers!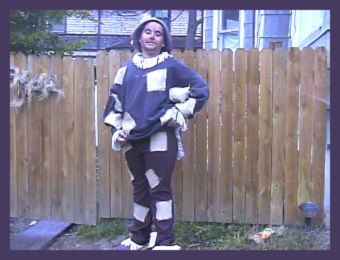 Taylor as the Scarecrow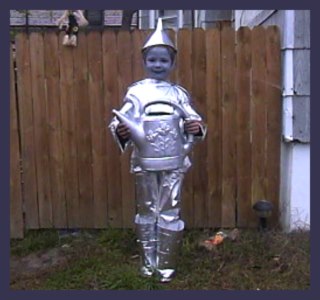 Dylan as the Tin Man... with his handy Oil Can.

Here is Korbyn as the Cowardly Lion...

Here is Korbyn, cute as can be, as a Rag Doll.
A big Thank You to Doreanea in Iowa for sending in the above entries!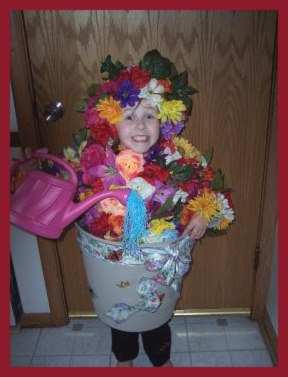 Here is Rachel, 4, from MN... as just the CUTEST Flower Pot I've ever seen.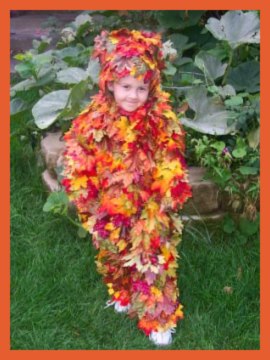 Rachel. A Pile of Autumn Leaves.
Thanks to Shannon in MN for sharing her photos and entering my Contests (she also has an entry on the Pets contest page.)

This Darling little Fairy is Jenna Jade.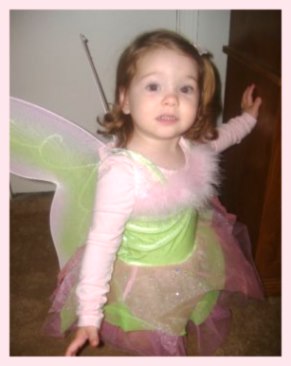 Jenna Jade is 19 Mos. old and is presented by proud parents
Eric and Stephanie from SC.
Thank you Eric and Stephanie!

Kim is beautiful in White..looking like a Fairy Princess...
...(Or perhaps she is that Fairy Godmother of mine that went missing when she found out how much work was approaching in my near future...?:-)
(Just kidding of course ;-)
Thanks for the entry Kim!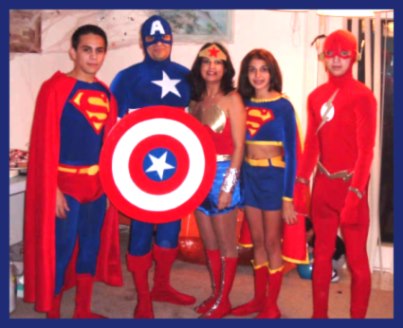 Meet the Alvarado Family (above). Dad and "Captain America", Tony (2nd from Left), made ALL of these fantastic Costumes from scratch. He has been making the families costumes since he was first married 25 years ago, to wife, and Wonder Woman,Sylvia (middle).
The other 3 costumed Heros (the kids) are also pictured below.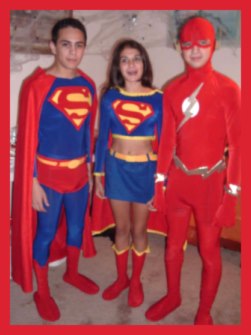 The Alvarado Kids (left to right): Michael as Superman, Kerinda as Supergirl, and Ricky as Flash. The Alvarado family lives in California.
Tony, Thanks for the SUPER (pun intended:-) Entries! Really AWSOME Costumes! You are really talented and I have to say that I am VERY impressed. Thanks to you and your family for sharing the photos with us.

This is Dylan as an Exterminator (I have a good idea whom he may be after..see the 2 pictures below.:-)

Here is Kailey as a Cockroach (ewwww...)

This is Korbyn as a Spider (YIKES!)
Thanks again Doreanea! Cute as can be.(but CREEPY! :-)

Jordan, 5, is a Lil Dirt Devil. I hear that Jordan is obsessed with Vacumn Cleaners(kids are the cutest things! :-). That being the case..perhaps I could BORROW him for a while ? I have Dust Bunnies GALORE..and he could even use MY Vacumn Cleaner! :-)
Thank you for the entry Jordan.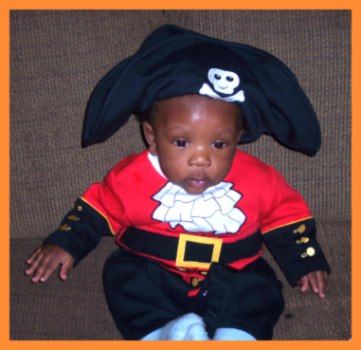 Nicholas, 5 mos. old, as salty old Pirate, Capn' Hook!
Thank you for the beautiful photo.

Here I have a beautiful little "unknown" Pink Bird. She came to me in an E-mail FOR the "contest". There was no other info enclosed. Perhaps the sender wishes remain anonomous which is fine. OR Maybe he or she simply forgot to add any detail like I often do. Either way..It is a lovely costume worn by a darling child.
To Whom it may concern: Thank you for the entry! :-)

Now for some PIRATES!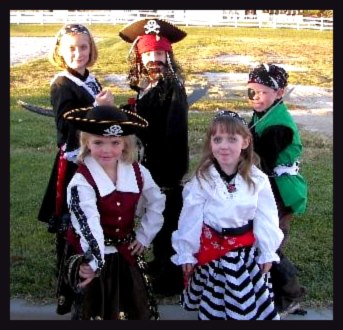 above as a motley crew

and below..each to his or her own pose :-)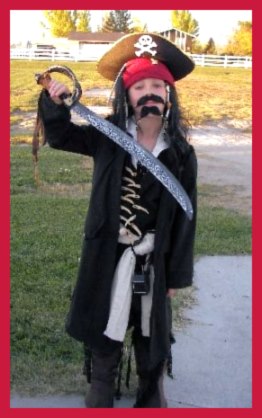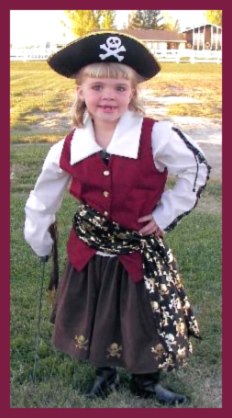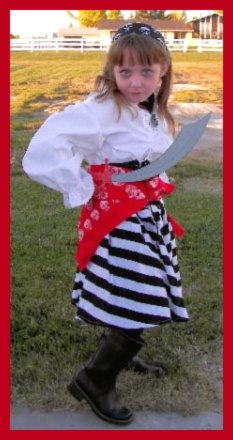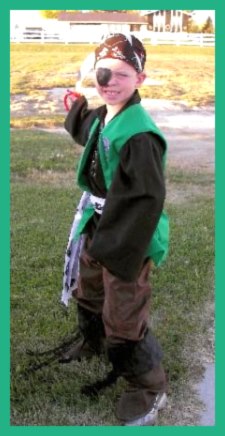 GREAT PIRATES!
A big Thank You to Sheri from UT for the wonderful entries!

The young lady above, dressed all out for Autumn, is Jennifer, 19, a "costume design" student attending College in IL. With the exception of the Golden Crown, Jennifer designed and created this costume from the beautiful "floating" necklace right down to her shoes.
Jennifer's costume is a happy reminder that "Halloween" DID begin (in ancient history) as a Harvest Celebration. Still today...amongst many groups of people...a "Harvest Day Celebration" is held right around this time of the year.
BEAUTIFUL Costume Jennifer! Thanks for your entry!

Above is Dan as Willy Wonka (I hear he even shaved his mustache and beard to better play the role:-). Next to him is wife, Sue, dressing as husband, Dan. Go Figure. HA! :-) (so THAT'S where his facial hair went? :-)
Thank you Dan and Sue from Nevada!

Above meet Tim as The Gatekeeper. Tim's wife Kristy as The Keymaster. In the middle is their Babe, Lukas, as Slimer. They are from Nevada.
Thanks Tim, Kristy, and, of course, Lukas.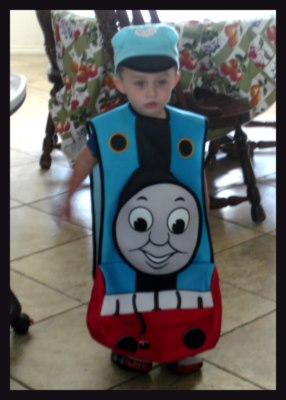 This is A.J. as Thomas the Train.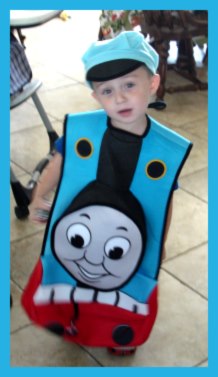 A.J.(that's short for Adam Joseph) is from CA and TOO CUTE not to post TWICE!
Thanks to proud parents, Adam Sr. and Rose.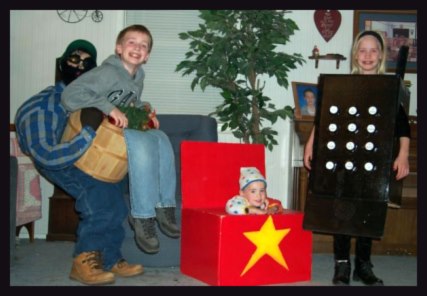 The above is a great example of Homemade Costumes (and the 3 below).
Jim and Sheri from S.Dakota have made son, Nolan, left, into a Farmer carrying "Nolan" in an Apple Basket! (figure THAT one out for me please!:-) . Center is younger son, Landon, as a Jack-in-the-Box. On the right we have daughter, Victoria, as a Cell Phone.
More Costumes by Jim and Sheri below:
Nolan as SpongeBob!

Landon, 4, as a Happy HotDog Vendor!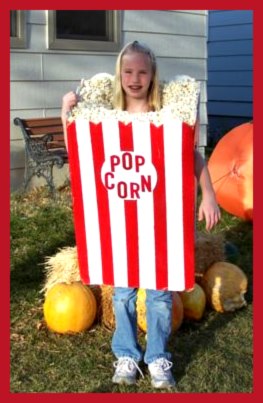 Here is Victoria as a Box of Popcorn!
Thank you parents, Jim and Sheri, AND Crew, for sharing your wonderful "homemade" costume pictures with us and Thanks for entering the Costume Contest also.

2007 Halloween Costume Contest
2008 Halloween Costume Contest
2009 Halloween Costume Contest
2010 Halloween Costume Contest