1960s Space Couple Costume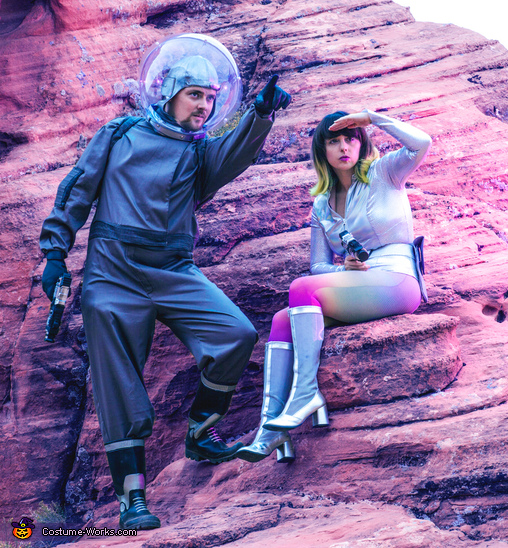 Space Girl and Astronaut spot the Aliens
More views:
(click to enlarge)
A word from Bridget, the '1960s Space Couple' costume creator:
"Escape from Planet Red Sand" Costumes by BOMBORA | BOMBORA featuring Bridget Dickey as the Space Girl and Mark Gaffney as the Astronaut. Photos by Dani Bauer of DbauerImages.

I love Halloween. I mean I LIVE FOR IT. I knew this year would be special because I wanted to focus on building 1960's Space inspired costumes for my boyfriend and I. We started sketching out ideas and pulling inspiration together at the end of August and started building from there. The only items that were not handmade in our costumes are our shoes, my tights and our guns. We really put our blood, sweat and tears into these costumes and hope you think they are out of this world!

Space Girl Costume: My swimsuit inspired jumpsuit was constructed with silver spandex/lycra and closed with a vintage zipper from the 1960's. (Yes, I do have a vintage zipper collection.) Belt is made of 1.5" width Silver elastic and closed with black closures. Go-Go boots are vintage.

Astronaut Costume: Space suit is made of a grey cotton twill and a pleated charcoal twill that is used as contrast on the belt, elbow pads and mock neck on the suit and closed with snaps. The hat and helmet are homemade. The hat is made of a suede that was spray painted silver and the helmet is made of plastic that was molded.
The jet pack was made with 24" PVC Pipe that was cut down to the size that worked for his back, screwed together and spray painted with silver and black spray paint. Straps were made of grey pleated fabric that was doubled and stitched down. The top of the Jet Pack is a cup that we took the bottom off of, spray painted, turned upside down and glued to the top. The boots were purchased but spray painted with silver to give the detailing that you see in the photo and the gloves are made of grey rubber.