Zombie Priest & Nun Costume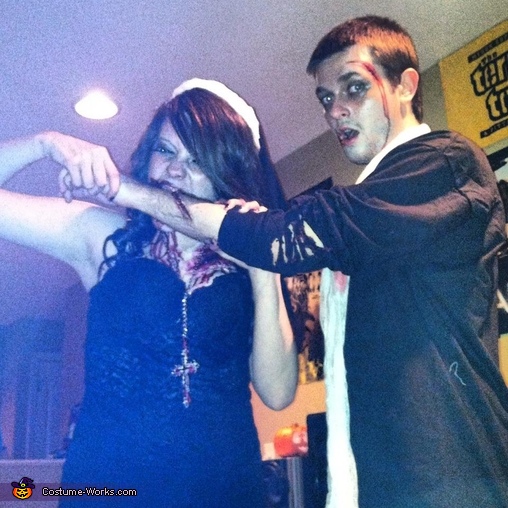 Zombie Priest/Nun
More views:
(click to enlarge)
A word from Tasha, the 'Zombie Priest & Nun' costume creator:
My boyfriend and I were looking for something we could turn into a zombie. We went through so many ideas and couldn't seem to agree on one. Finally, 2 days before the party, we decided to just go shopping and decide at the last minute. We ended up doing a zombie priest and nun.
Priest:
black long sleeve shirt ($7 at Walmart!)
White paint (for little white square at neckline)
'bloodied' decoration from dollar store
Nun:
black corset
black skirt
knee highs with white bows
lace cami (cut to make veil)
'bloodied' decoration from dollar store
Wounds:
vampire blood ($1 at walmart)
zombie tattoos ($1 at walmart)
toilet paper
non-toxic elmers glue
red/black paint
liquid makeup (to fade wound into skin)
To make the wounds, glue toilet paper in layers on part of skin, rip apart from middle so skin underneath is exposed. this doesn't have to be perfect, I realized the more I didn't care and just threw stuff on, the more authentic it looked. Once dry, paint red/black on the skin in the middle (where you ripped the toilet paper apart), then start painting the toilet paper with a red, almost to outside edges. Use liquid makeup on the very outside of the toilet paper while paint is still wet and use fingers to blend the red to fade into the skin tone.
We loved how it turned out, and we got tons of compliments. Not bad for a last minute costume! Both costumes together costed between $20-$30.