Zombie Nerd Costume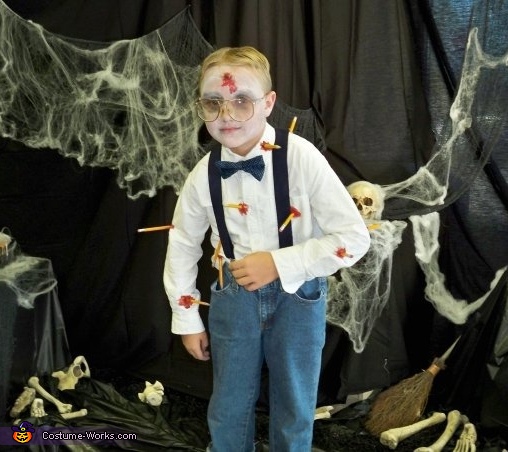 Zombie Nerd
A word from Paige, the 'Zombie Nerd' costume creator:
This is Maxwell, the biggest nerd you'll ever find roaming down the hallways of your school. His classmates had had enough of his nerdy ways and decided to get rid of him, and you know the only way to get rid of a nerd is to stab him with his own pencils! Well, Maxwell is back from the dead to seek revenge!
We used clothes around the house as well as, suspenders, bowtie and an old pair of glasses. We hiked up those pants and parted his hair. Put on some zombie makeup and hot glued broken pencils all over his clothes, I used some wax stuff from one of those little halloween makeup kits to stick the pencil on his forehead, along with some red paint for blood. In all I probably had around $5 in the whole costume! Maxwell done the rest!