Zombie Griller Costume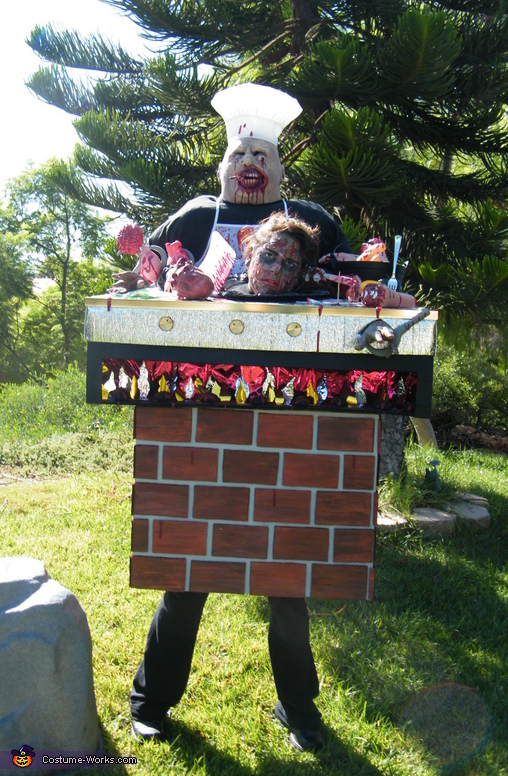 Anyone Want Some BBQ ?
More views:
(click to enlarge)
A word from Jose, the 'Zombie Griller' costume creator:
My daughter Sara 17 is wearing the costume. The idea came from watching my dad try to BBQ, he's always burning the patties and saying he's the new master chef with his dirty apron and old chefs hat. My mom handmade the costume. The materials used were, glue sticks, nail polish,paint,one laytex mask, 2 aprons, chefs hat, blinking lights, faux hands, feet, bones and some plastic organs, vegetables and a cauldron. Some cardboard and foil covered foam she got from the local warehouse store. She made 2 table tops 1 with a false face which had real BBQ brickets, foil flames and blinking lights to show its on fire when lite. The top of the Grill was decorated with a cauldron of legs and hands splashed with blood and some vegetables to adorn. Mom added some appetizers with a cut off bone with a fork stuck in it and some toothpick fingers and skin. The table had my painted burnt head splashed with vampire blood, and peeling skin. The beating heart was controlled by my hand that stuck out of the bloody napkin. Some meat hooks adorned the back with a liver,a brain and a heart. Everything was splashed with red nail polish for a ghoulish bloody appearance. The Zombie Griller was made with a box, a laytex mask with a finger stuck in his mouth, dads back shirt, 2 aprons, a chefs hat and two fake hands with one holding the meat clever. The bottom of the BBQ was made of a thin layer of cardboard with painted brick stones for realism. My legs finished the Zombie Griller with black pants and work shoes. The costume shows most of its realism and special effects at night but you see most of the realistic details in the day time. The crowds run in every direction when you come near. The children cry and the adults just laugh and cant make heads or tails of it.
It was a real thrill to wear and I thank my mom for making it for me.