Zombie Couple Costumes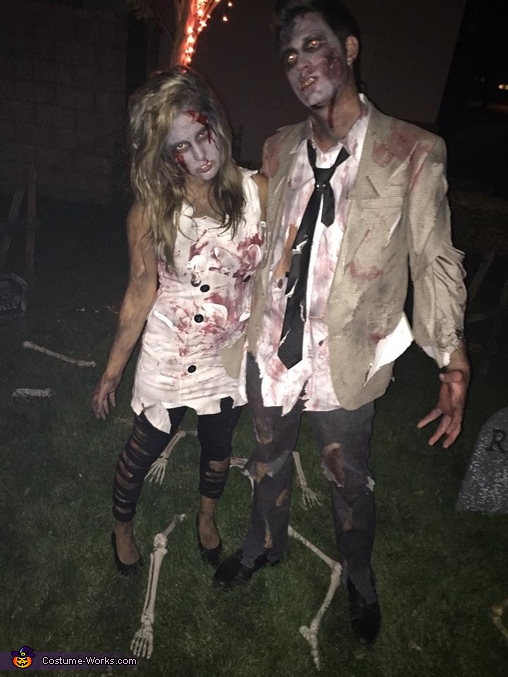 Zombie Couple
A word from Christa, the 'Zombie Couple' costume creator:
This year I wanted something scary for our family matching costume idea. One night I was watching the new season of the walking dead with my family, when all of a sudden our two year old daughter kept asking questions on what exactly the dead people were. After we explained it one time to her, durning and after the show she kept walking and acting like a zombie and it gave me the idea of what this years family costume will be! I didn't want to look like the new zombies played in walking dead or newer movies today, I wanted to be more unique and make old fashion zombies from the 50's/60's era.
I wanted to find clothes that would resemble from the 50's era and the only place I could think of that would be less expensive and have exactly what I was looking for would be my local thrift stores. So I headed down and started the hunt, and to my surprise I found the items rather quickly. I went to the mens section for my husbands outfit and his look was also fairly easy to find, grey jeans, white button up long sleeve shirt, black tie and an old looking blazer type jacket. Now it was easier to have him put the whole outfit on so I could see exactly where would be the best places to cut and tear in his clothes. I just started cutting through out his entire outfit, trying to give him the look of a zombie. I then also sprayed black colored spray throughout his whole entire body to give him the old, dirty look. For his face and body I put white makeup covering his face and black to cover his eyes. I then blended the black and white to make it look more dirty and more like a zombie! I also added a abrasive on his face that I found for 2$ at the thrift store to give him more of the zombie look, and of course added blood everywhere for the look of the human dinner he just devoured! Now for my costume I wanted to find an old fashion tight dress and came up with a old fashion black and white dress that reminded me of the 50's. I also did the same makeup and spray as I did my husbands costume. To do our costumes and makeup took me about an hour. It was rather easy, fun and not time consuming!
Everyone absolutely loved it! We were a hit at the party and on social media! I don't think I've ever gotten so many likes and comments on a picture before!