Yum Yum Sushi Kids Costume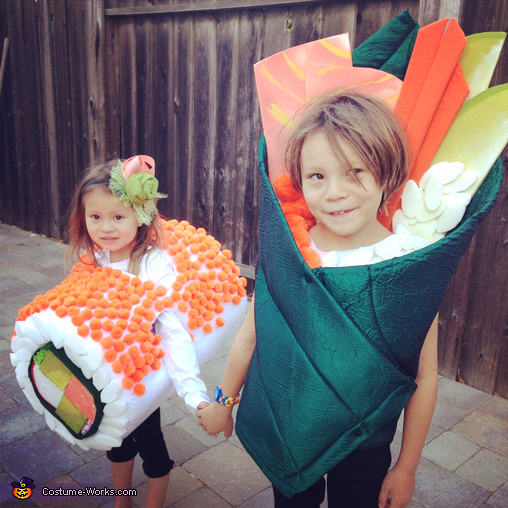 Salmon Roll and Handroll costumes by Suburbanbelle
More views:
(click to enlarge)
A word from Stephanie, the 'Yum Yum Sushi Kids' costume creator:
These two sushi rolls are worn my children, Maggie (5) and Tommy (7). I made both of them in October 2014. The smoked salmon and avocado roll was constructed over a collapsible Ikea laundry hamper. I wrapped it in quilt batting and covered it with a white polar fleece sleeve. The arm, neck, and body holes are bound with fold over elastic to provide a comfortable wearing experience. The rice and other filler elements were made from craft foam, painted packing foam, and felt. About 100 orange pom poms were used for the roe on top. I made the wasabi (woven fabric and fleece) and ginger (ribbon) hairpiece for a cute girly element. Total materials cost: $22.

The nori for the hand roll was constructed with sheet foam used for car headliner covered with a dark green crinkle taffeta. I basted the foam together using the walking foot on my sewing machine (indispensable for working with this foam), spray basted the fabric in place, then quilted it to prevent shifting and hold the whole assemblage together. The "nori" actually wraps around the wearer and snaps in place with strong resin snaps. The salmon, avocado and rice were made of spray and hand-painted high density foam. The roe is made of 2" pom poms. The guts of the hand roll were hot glued to a t-shirt, which was then hot glued into the nori shell. Armholes are finished with fold over elastic. Total materials cost: $25.

total construction time for both costumes: 8-10 hours of pure fun.
www.suburbanbelle.com