Yukon Cornelius Costume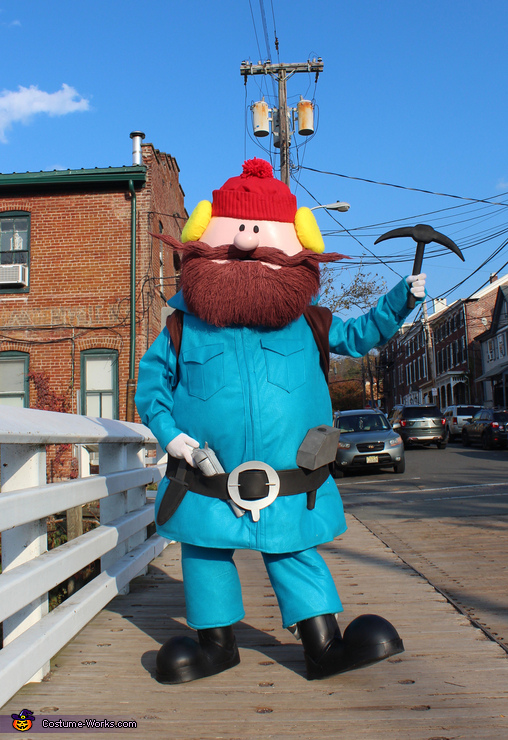 Searching for silver and gold
More views:
(click to enlarge)
A word from Stephen, the 'Yukon Cornelius' costume creator:
Hello, My name is Stephen Simantiras and I am an industrial designer from Morristown, NJ. who teaches CAD and model making on the side at mean University. I have spent much time developing and refining my model processes which I teach to my students. I love Halloween because it gives me a chance to apply every process I have learned to my costume. There is no better feeling than bringing a character to life that makes others happy!

Growing up during the Christmas season meant many things in my home. Aside from Family, food, Santa and singing carols were getting to watch all my favorite Christmas shows. Out of all, I couldn't wait to watch Rudolph the Red Nosed Reindeer. I was always fascinated with clay-mation process and how flawlessly these small characters came to life on the screen. My girlfriend and I just got back from backpacking Glacier National Park which left me in "mountain mode". The trip inspired me to bring my favorite mountain man character to life; Yukon Cornelius.

Yukon was carefully constructed through a variety of processes. All components were scaled around an image of myself in order to keep proper proportions. His body was constructed of open cell foam and fit into a custom felt jacket. Boots and tools were all constructed out of EVA foam and painted. His head was carved out of insullation sheet foam, coated in polyurethane, and painted. His beard was made by painting faux fur with acrylic paints and his mustache reinforced using spray adhesive and wiring.

The whole project took about 144 hours to make. It started on October 3 rd and took 18 days to create.

I hope you enjoy my creation!
https://www.facebook.com/Steves-Costume-Design-632904030064158/