Woodland Fairy Costume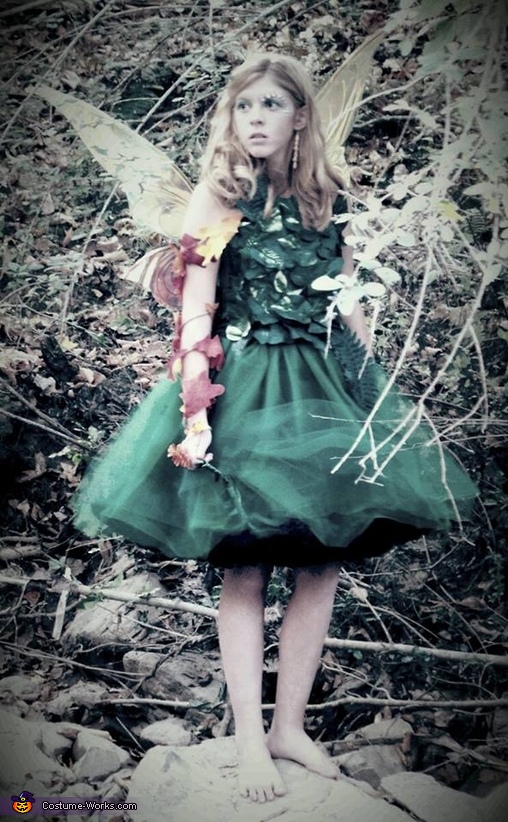 Woodland Fairy
More views:
(click to enlarge)
A word from January, the 'Woodland Fairy' costume creator:
I made this costume for my 12 year old daughter. This is what I consider her "last Halloween", as a "trick or treater" any ways. I have always been crafty, but have never made my daughter's costume. (We're usually last minute people searching the weekend before at the costume store). But this year she knew what she wanted to be, and I had enough time to make one. Last year I had bought her a pair of fairy wings from FancyFairy.com and she wanted to be a fairy this year. The wings are the only thing I bought already made. I searched the internet for ideas and her favorite was a picture I found on Pinterest.
The first step was to find a corset that would fit her, because the wings work best when tucked into a tight corset. I bought one at an adult store, so needless to say, I felt weird when asking about sizing for my 12 year old compared to the sizes they had. I kept talking as trying to explain why and how I was using a corset for my 12 year old for Halloween! lol After taking it home and trying it on, we knew it was going to work. That night we went to Hobby Lobby to buy silk plants.
I hot glued different sized and colored leafs on the corset, along with fern coming down. I also cut and glued vines to go along the strings of the back of the corset, so it would not show her back, nor the strings.
The skirt was made by my mother and grandmother. It is made from light and dark green tulle. My cousin did let us borrow a petti skirt she had to make it poof out.
The earrings were made from one of the floral stems I bought at the hobby store. I sewed them with fishing line and a simple plain hook earring.
The vines were wired covered in a brown material (raffia) and I hot glued leaves, flowers and butterflies on them and wrapped them around her arm. The arm vine attached at the top of the corset with a safety pin, and looped at the end to make a ring for her to wear around her middle finger. For a pageant she was in, she also had a leg vine, that attached to her shoes and at the bottom of the corset. She did not want to wear it for pictures because it was aggravating.
She does have shoes to wear Halloween night. They are not in the picture because we wanted a more natural feel. Her shoes are an old pair of thong sandals that she no longer wears. I hot glued a big sun flower to both of them on the front so you can not see the design of the sandal. The left sandal has the leg vine attached to it on the inside and will wrap around her leg to connect to the bottom of the corset with a safety pin.
Her makeup was simple with green eye shadow and silver gems glued on with body glue. I curled her hair and pulled it to the side with a clip and put a butterfly on the top.
This costume took several days to make, I worked on it for a few hours a night for a week or so.
The cost are rounded as I do not have actual receipts with me. The corset was around $60, but there were cheaper ones there. I bought this one b/c I wasn't sure how low we were going to want the skirt. After making the costume, I now know I could have bought one of the $15 ones that only came right at her waist. (Live and learn) The flowers, leafs, raffia, floral stems and tulle from the hobby store was around $100. The cost on that could be taken down if you don't want as much of a variety. Since the costume was made first for a pageant and was going to be seen up close, I wanted a large variety. The hot glue, fishing line, earring hooks, gems, body glue and sandals were all something I had at home and did not have to buy for this. We already had the wings, but I did pay about $90 for them. They can also be bought cheaper, I had these custom made for her.
The "Ooooos" and "Wow's" along with the compliments she gets as she walks around in it, are priceless. She loves her costume, and I feel that I have succeeded in making this a Halloween she will never forget, and can proudly say, "My mom made it!".