Wizard of Oz Costumes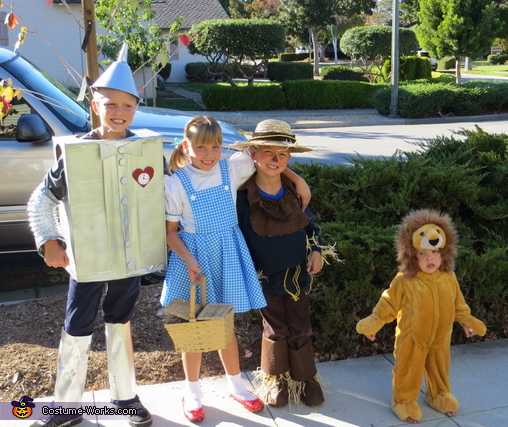 We're off to see the Wizard!
More views:
(click to enlarge)
A word from Maureen, the 'Wizard of Oz' costume creator:
The idea came from the Dorothy costume I found at a garage sale for $5 which came with Toto in the basket! I knew my daughter was going to be Dorothy, so I had to convince (ok, maybe bribe) the others to do the Wizard of Oz theme.
My daughter's costume was all but complete except for some white lace-trimmed socks which I picked up at Sear's, and some red glitter flats which I got at Target. I tied her hair in pig-tails with blue ribbon and she was good to go!
The tin man is my 9 year old son in a cardboard box and funnel spray-painted silver, and dryer hoses on his arms and legs. I used silver duct tape to attach the hoses to the box (and also to keep the metal wires in the hose from poking him).
My 6 year old is just wearing an over-sized long-sleeved shirt stuffed with a pillow and a rope tied around his waste. I tied raffia to some elastic bands to put on his wrists and made a fabric collar for his neck, and "boots" to go over his shoes. Topped his head with a straw hat and more raffia and used brown eyeliner to make a triangle on his nose.
My 18 month old was the Cowardly Lion. I found the costume for $15 at Marshalls and all I had to do was add a red ribbon to the tail.
Loved this costume theme idea and the fact that it was cheap and I was able to make part of it was awesome! It is probably the last year I will get away with doing a theme that everyone will agree on, so I'm glad I did it.