Wizard of Oz Witches Costume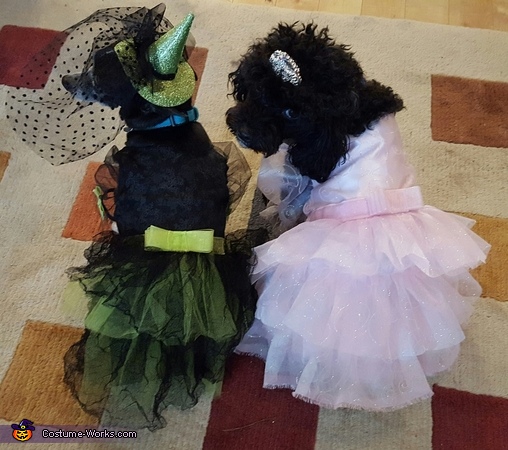 The Wicked Witch of the West and Glinda the Good Witch
More views:
(click to enlarge)
A word from Kerri, the 'Wizard of Oz Witches' costume creator:
This is Tina (Chihuahua) and Bella (poodle) who are the Wicked Witch of the West and Glinda the Good Witch from the Wizard of Oz. I love the Wizard of Oz. It is one of my favorite movies but I wanted the costumes to be a little bit different than the typical Dorothy. I love that they are opposites and someone suit my dog's temperaments.

I did make the costumes or most of them. Parts of both costumes are left over material from other projects that I've worked on. The Wicked Witch hat was part of a headband that I purchased and the crown for Glida was two $.25 party favor from Party city. It was on a comb and I cut the comb off of one side and glued it to the other crown so it looked finished on both sides. As for the dresses. I made paper patterns that are based off of a baby dress pattern that I fitted to each dog. I then made a plain, flat under skirt that I added the ruffled tulle to to finish the skirts.

They actually don't mind wearing the costumes especially Bella (Glinda). She even likes her crown. Everyone who has seen them in their costumes has asked to take their picture.

I hope you like them.