Weed Bag Costume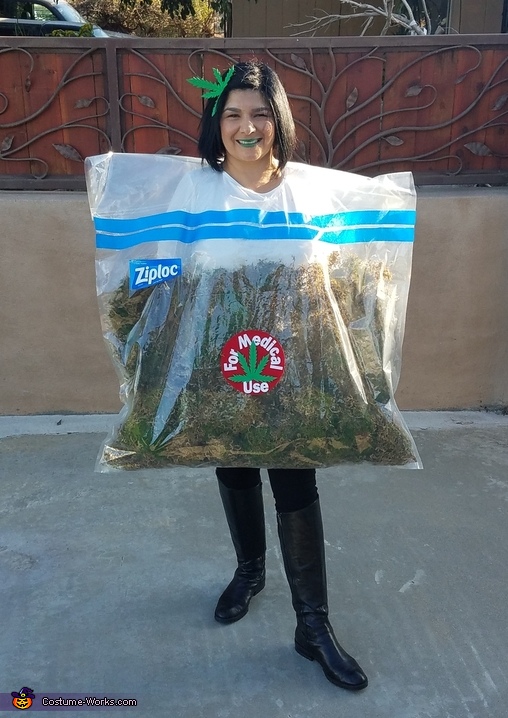 Weed Bag Costume
More views:
(click to enlarge)
A word from Erika, the 'Weed Bag' costume creator:
Its finally legal to smoke now in California. So I decided to make 2018 medical marijuana despensory weed bag for Halloween. I attended a Halloween Boo Cruise in San Diego. I was chosen as a finalist. But I was having so much fun that I went upstairs with my husband and friends to go have some tequila shots!! I totally for got about the contest. As I was showing up during the final pick for best costume. They choose Hot cheetos girl and shark week for first and second place. I was really chap!! BUT every one on the ship was so happy to see me and take pictures. They were all interested in how I made the bag. I guess I felt special at the time of my tardiness.
Moving on, this is the secret on making the bag. The bag is important because it has to be strong to hold the moss and home made buds! Home depot has a vacuum storage bag that has 2 sizes,large and medium. I pick the large bag because I want to make it cover me down to my black boots. But if I wanted too doing again I would choose the medium size. Because I'm a shorty.
Next I got blue painter's tape for the ziploc look seal line. Other materials like ziploc logo, moss, 3M clear spray glue, and letters to spell out "medical use only" I got from the 99cent city, Michaels. I use a green foam paper to do the marijuana leaf. A red flet cloth to do the circle. Styrofoam balls to do some baby buds. This costume cost me about $40 bucks. I had some of the materials in my garage. I Hope I made it on time to win, this time! Cheers.