War Machine Ironman Costume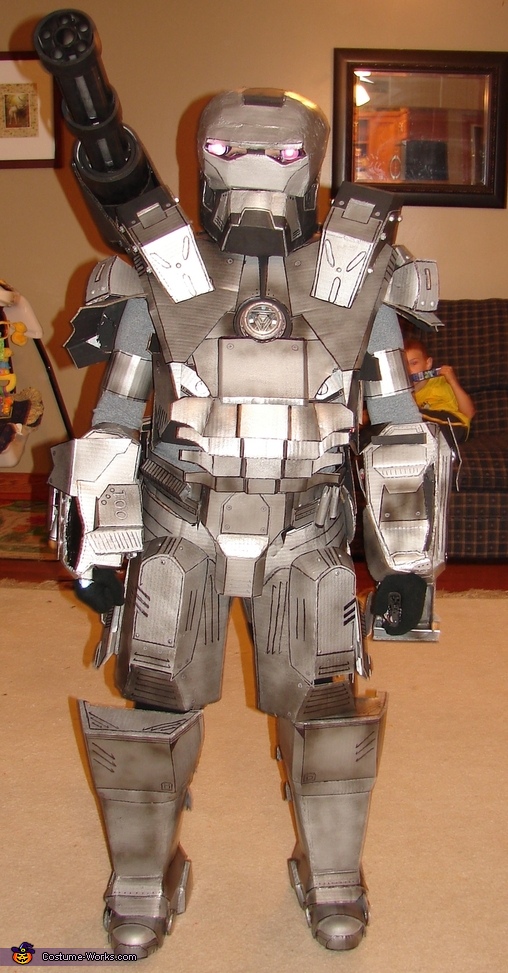 Front view of Costume
More views:
(click to enlarge)
A word from Nicole, the 'War Machine' costume creator:
My son, Zach, loves super heroes and robots, so this was the best of both worlds! He watched the movies and just had to be this for Halloween! So we made it happen!!
War Machine is constructed out of cardboard and hot glue, with nuts and bolts used for details. Then the whole thing was spray painted metallic and then air-brushed for depth and detail work. A silver and black sharpie were used for fine detail work.
The helmet opens to reveal the face and the eyes are caving LED head lights painted red with a sharpie.
All sections are held on with either nuts and bolts or velcro. A black sweat suit was worn underneath to make the costume seem more streamlined.
The gattlin gun was constructed using pvc pipe and a cordless drill. The drill was disassembled and installed inside the larger piping and the trigger was run down the back of the costume and down the arm, positioning the trigger in the hand piece. There are LED lights installed inside the barrel of the gun to simulate firing, that run in a strobe pattern.The gun was painted in realistic colors and attached to the costume using nuts and bolts. We even kept the assembly to charge the drill accessible, so it can be recharged as needed.
The bullets for the gun are constructed from metal conduit and hand tied using floral wire and painted, for that realistic metal against metal sound.They swing freely from the ammo box on the back of the costume!
There are also a variety of flashlights, blinking light, and strobe lights on the arm pieces to simulate other weapons, and a chest piece that lights up and had launching sounds.
In this costume Zach can feel like the hero and live out his dreams of being a super hero! Watch out world and Tony Stark....Zach is hot on your tail!