Waitress Zombie Costume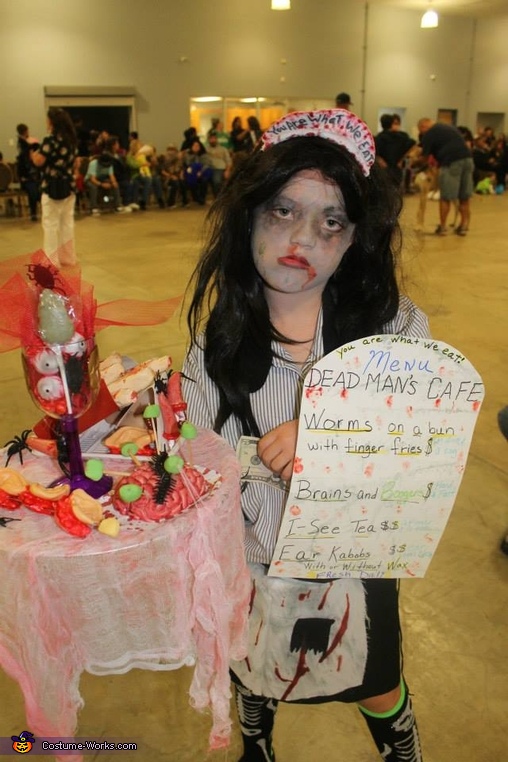 Zombie Waitress
More views:
(click to enlarge)
A word from Vickey, the 'Waitress Zombie' costume creator:
My Grand daughter is a Zombie waitress. The shirt and skirt were thrift store finds. I added a black felt collar to the original collar to match the black skirt. I created a felt black pocket on the shirt with white bloody hankie sticking out and a name tag, 'Ghoulia'. I created a white bloody apron from scraps and pinned it to the skirt. On her head I glued a semi circle of felt, used fake blood and wrote, 'You are what we eat' She carried a poster board menu and her tray is a silver disposable dollar store platter covered with cheese cloth, bloodied of course and topped with dollar store finds, bugs, worms a goblet, brains, fingers and eyeballs in the goblet. The menu featured Worms on a bun ( a real hot dog bun), Finger fries, Brains with Boggers on picks, I-see-tea in the goblet filled with eyeballs, ear kabobs with and without ear wax, I skewered fake ears. All was glued to the platter and I created a strap on the bottom that she could use to carry the tray, she could drop her hand to her side and the tray would not fall off. She is wearing a long black wig which i had in my costume box and a pair of socks found at a $5 and under store.
We used black and grey face makeup with fake blood to complete her look.
This entire costume cost me approx. $18.00-20.00 to create.